In his new book Tough Calls, Allan Leighton examines the difficult job of making the right decisions in difficult times. In this extract from the book, he looks at how retailers responded – and emerged stronger – when the banking crisis struck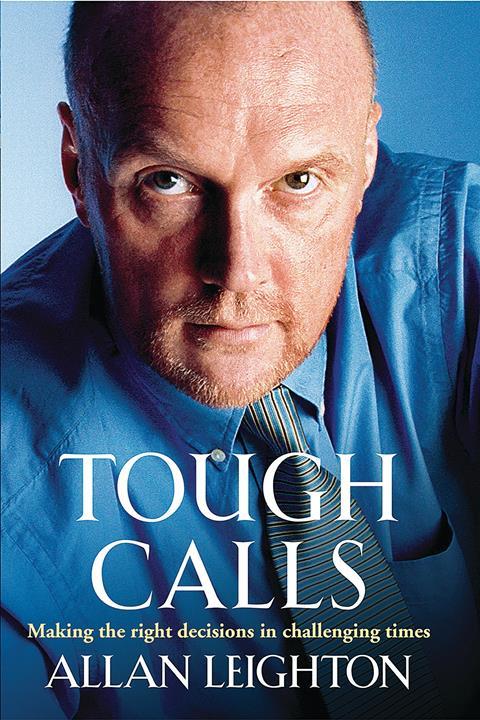 The banking collapse shows – at its most extreme – the difficulties inherent in crisis decisions. Faced with a situation that changes from hour to hour – let alone day to day – with constant bad news coming in from outside, internal panic and external criticism, it's very easy to grab at possible solutions and lose sight of where you want to get. But even at times like this there are certain things you absolutely have to keep in focus.
The financial crisis was very tough indeed for bank leaders, but it was also tough for those not immediately in the eye of the storm. At Marks & Spencer, for example, Sir Stuart Rose could see an economic environment in which the markets were suffering and the country was clearly sliding into recession. This was a real concern for the retail giant he was running. In retailing, when times get tough, customers generally trade down.
They may switch from their favourite brands to own-brand products, or even change store altogether to one that is perceived to be cheaper. The syndrome where shoppers divert from Waitrose to Sainsbury's, or Sainsbury's to Asda, or Tesco to Netto, is known as the 'Aldi effect'. It earned the moniker after the sudden boom in trade at discount stores at the start of the last downturn. For a company like Marks & Spencer, which has never sought to trade in the budget market, the risk that people might trade down was a major and potentially very damaging one.
On the surface, it seemed that Sir Stuart had a choice between two options. In food, he could ignore what was going on and hope that M&S would come through it all unscathed. Or he could substantially drop his prices to beat the 'Aldi effect'.
What he actually did, though, was to devise a policy that stayed true to fundamental M&S principles. As he recalls:
"Our instant reaction was to recognise that people saw our foods as expensive and we could foresee a situation where everyone cascaded down to try different supermarkets. We made the strategic decision to take our margins down by £175m a year in the belief that, over time, customers would recognise that we have got really good value and we would get that cash back.
"It worked. The best marketing thing we came up with, which was a huge success, was dining for £10. Everybody laughed to start with, but then every single person on the high street bar none copied it. That was our reaction to the downturn and we still maintained our quality standards. People didn't say they got nasty quality stuff. They said, 'Wow, I am getting M&S quality for £10. That is fantastic value'.
"We made sure that we were constantly re-establishing our core values. It was not about being price-driven, but being value-driven. We stuck to our guns. The last thing you should do is to try to be what you are not. It would have been insane for M&S to try to be like Primark or Tesco. M&S is not Primark or Tesco. You can build the margins back again, but it will take time. The most important thing is survival in a recession and keeping faith with your consumer."
This seems to me precisely the sort of decision-making you need here.
Sir Stuart knew that doing nothing was not an option, but nor did he rush into making a decision that went against a formula that has made M&S so successful.
Keeping focus is something that I also sought to do at Loblaw during the financial crisis. We were already well stuck into a massive shake-up, which included a major store renovation programme and installing one of the biggest retail supply IT systems ever. I had no doubt that Loblaw was one of the best supermarket businesses in the world, but I also knew that these changes were essential if we were to modernise.
With everything that was going on with the shake-up, it would have been tempting to try to ignore the economic downturn. I knew, however, that that would make us very vulnerable. The trick, then, was not to agree some completely new strategy aimed specifically at the financial crisis that might distract from what we were already trying to do, but to focus on an approach that would complement the company overhaul.
I know from experience that cash is king in a recession– more an emperor than a king in this one – and so we turned our attention to what I called a 'cash marathon'. This involved intense scrutiny of every single way the business used cash, from capital, to receivables, to dividends, to inventory.
It might seem a rather obvious thing to do, but in easy times the focus on cash lessens in most companies. My view, therefore, is that there are lots of loose cash that companies can get after.
How much attention is really paid to levels of stock? When was the last time anyone really went through the terms a company has with its vendors in detail?
Nothing was sacred in the cash marathon. We looked at everything. And guess what we found: billions of dollars. In receivables we discovered we were far too generous in our payment terms and were in excess of the industry norms. Turning to our vast investment in capital projects, we targeted the team to negotiate up to a 15-20% discount from every single vendor we worked with. We carried this on all the way down the line and within six months had added significant cash to the balance sheet.
There is an immediate business lesson here: many companies in the boom years grew fat. People were just not focused on protecting cash in their business and thinking what they could do to make it work better. It was so simple to borrow money when we needed it, that everyone relaxed and took the easy way out.
Ian Cheshire, Kingfisher's chief executive, who took on the top job right at the start of the recession, did a similar housekeeping exercise at the DIY giant. His view is that those of us in the retail business were better equipped to deal with the fundamental shift in the economic world.
"Retailers are used to getting in every Monday morning and starting all over again. It is in our mindset. I'm sure that if you were running a 20-year-long oil field project, such massive economic shifts would have a devastating impact. It seems to me, though, that most retailers thought, 'Hmm, the world has changed, let's get on with it'.
"Everyone took on a trader's mentality and went hell for leather to get the cash in. As soon as we realised we couldn't rely on banks any more, we immediately began looking elsewhere.
"Everyone was 'lucky' to some extent that there had been this build up of fat in our businesses. There was certainly a lot of unrealised potential in Kingfisher where it had become very decentralised through various acquisitions over time. This was a real opportunity for a big shake-up and to change the structure.
"We also created a bonus scheme for our top people, which is something most retailers don't usually do. We told them that if they got their working capital sorted out they'd get a bonus. Suddenly we generated an extra £700m in cash and shareholders were asking why we hadn't done it before."
Having strengthened the balance sheet through the cash marathon at Loblaw, we also knew that our capital projects were producing better returns, that we had reduced our net debt, and that we were buying better. That's the point when we decided to invest more money into our capital programmes – in other words, use the fruits of the cash marathon to invest so as to ensure that we kept a competitive edge at a time of a market downturn. The object was a simple one: to come out of tough times stronger, not weaker.
It may not seem the most intuitive of strategies to consider, or the easiest to implement, but investing in a business in tough times can actually pay dividends. If you get it right, while others are pulling in their horns you can be pressing ahead of them. It's interesting to note, for example, how Sir Terry Leahy handled things at Tesco during the grimmest moments of the credit crunch:
"As a rule, when things are going well it is easier for everyone to do well. When things are difficult, the more determined, the stronger ones, get going. We have always made the most relative progress as a business in the more difficult times by keeping investing and upping the competition. If it is hard for us, it is really hard for others – indeed more than some others can cope with.
"This time, though, it didn't feel like an opportunity. The autumn of 2008, immediately post-Lehmans, was extraordinary for all businesses because for a moment no business could finance itself, or rely on its usual sources of finance. It didn't matter how big or profitable you were. Everyone immediately had to secure how they would finance themselves, which in our case meant we had to rely on cash flows from within the business.
"That is not how businesses operate. Yes, everyone has cashflow, but the normal sources of financing are equity, debt, asset sales and so on. We were used to a much wider pool of financing, which could be altered according to the cost and the availability. This was a massive change.
"Was it a 'great opportunity'? This time it was more like being in a marathon, gasping for breath when someone says, 'Let's put in a sprint; it will finish the other person off'. It is good in theory, but it doesn't feel great.
"We kept investing once we secured our financing, though, and that has been good for Tesco. We did grow market share through the recession; 2009 felt good."
Sticking to core business values and disciplines in a crisis, then, may actually end up not just sustaining a company's fortunes, but enhancing them.
IAN CHESHIRE'S DECISION-MAKING LESSONS
"There is a degree to which the perfect is the enemy of the good. If you wait for 100% information and certainty before making a decision, you are definitely too late. If you make it on 20% you are probably too early.
It is about having the judgment"
"The data won't make the decision for you. You can analyse it in a million ways, but in the end you still have to make the decision"
"Listen to commentary and criticism from the outside, but never forget you know more about the business than they do"
SIR TERRY LEAHY'S DECISION-MAKING LESSONS
"One of the hardest decisions is knowing how far you can push the business. The CEO always has to push the business farther than it wants to go itself"
"Businesses can recover tremendously from wrong decisions as long as they are not life-threatening. As long as you are not betting the company, you can take lots and lots of risks, and lots and lots of decisions, many of which go wrong and you'll still be fine"
"You learn more from the mistakes than from the successes, as long as you are honest and don't punish failure. Just say, 'Well that was a right lash up, let's have another go'"