From customer service robots to online chatbots, artificial intelligence is playing a crucial role in driving productivity gains. Retail Week investigates this game-changing phenomenon.
Imagine your key assembly line has broken down. Now imagine a robot is on hand to tell your engineers where the problem lies and provide them with the tools to fix it.
That's the power of artificial intelligence (AI) in action and just one example of how the technology could transform the productivity of retailers in the years ahead.
The robot in question has been developed by Ocado, which has established itself as a leader in the development and application of AI in a retail setting.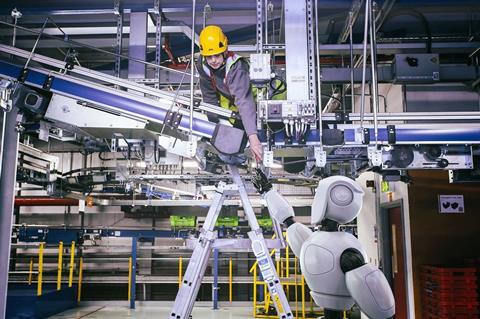 Next-generation technology is so central to the online retailer's business model that it has established its own technology division.
Ocado Technology develops the software and systems that power the online grocery retail platforms of Ocado and Morrisons, as well as building systems for general merchandising retail businesses.
The robot engineer is part of an EU-wide research collaboration called SecondHands and has yet to be fully commercialised, but other AI applications are already delivering significant productivity gains to retailers.
"It's not too hard to envisage chatbots allowing us to more efficiently handle routine site interactions with customers"

Sean McKee, Schuh
Ocado also recently launched a machine learning-enhanced customer contact centre, which employs an advanced AI software model to categorise customer emails, ensuring that the most urgent enquiries are given priority and saving employees hours spent categorising thousands of emails manually.
Customer service is one area of the retail operation in which businesses have been most willing to experiment with AI-based solutions.
The likes of eBay, North Face, Schuh and Shop Direct are among a number of retailers testing online assistants powered by AI – so-called chatbots – to carry out routine, repetitive tasks, thereby allowing employees to dedicate their time to more value-added work.
"It's not too hard to envisage chatbots allowing us to more efficiently handle routine site interactions with our customers in a way that is both more efficient, low-friction and enables us to free up our most precious resource – our people," says Sean McKee, ecommerce and customer experience director at Schuh.
Helpful robots
For customers who prefer their robots to take a more physical form, across the Atlantic the first wave of customer service robots are beginning to come on stream.
In 2016, US home improvement retailer Lowe's introduced an autonomous customer service robot in stores throughout the San Francisco Bay area after a successful two-year pilot.
The LoweBot is able to navigate the store answering simple questions in multiple languages, freeing up staff to spend their time offering expertise and specialist knowledge.
There's no question that innovations such as the chatbot are reshaping the way customers interact directly with a retailer.
"The savings for retailers through using AI can be so significant that retailers shouldn't see cost as a deterrent, but see the long-term value it can bring"

Rupal Karia, Fujitsu
However, for IBM's retail industry director Danny Bagge, although the business case for retail AI may currently be in chatbots, the really exciting opportunities lie in other parts of the business.
Take merchandising, for example. IBM's Watson 'supercomputer' is opening up new horizons by allowing retailers to have a hyperlocal view of what they should be stocking, something Bagge says will be a "massive transforming space" in the way data is captured and used.
"We can now get down to the level of a store in, let's say, Reading, and say this is exactly your profile of consumer, this is exactly what's going to happen with the weather, this is exactly the footfall from your CCTV camera last week," he says.
"So you can say, for that store, this is what you should be ranging."
Watson is also capable of ingesting imagery, from Paris or London Fashion Week for example, and using that data to suggest how high-street colour palettes will look next season.
The aim, according to Bagge, is not to replace the role of humans, but to augment the intelligence of a human merchandiser or buyer and transform the efficiency and effectiveness of the design process.
"Humans could do it, but it takes a long time," he says. "Supercomputers like Watson can do this in the blink of an eye."
Barriers to adoption
Bagge says we are currently only scratching the surface of the potential for AI to transform the way retailers work.
So why aren't more businesses embracing cutting-edge tech to boost their productivity?
Cost – or the perception of cost – is often the greatest barrier.
82% of retail bosses think machine learning will have a disruptive effect on retail

Retail Week research
"Any upfront investment is always going to raise questions, especially for retailers where their cash flow is fundamental," says Rupal Karia, head of commercial sector for the UK and Ireland at Fujitsu.
"That said, the savings for retailers through using AI can be so significant, by helping them to reduce costs and focus on areas that will enhance their brand, that retailers shouldn't see cost as a deterrent, but see the long-term value that AI can bring."
Those retailers that have already embraced AI are constantly searching for the next possible application.
Ocado, for instance, is looking to use it to solve challenges around vehicle routing.
"We have hundreds of delivery vehicles and tens of thousands of drop locations," says James Donkin, general manager at Ocado Technology.
"Each order has a volume, a weight and a time slot within which it must be delivered, and each van has constraints around how much you can fit in it and how far it can drive.
"Once you know this, you can then look at the optimal solution to deliver the most groceries in the shortest time using the least vans."
Where delivery is concerned, Karia goes a step further and suggests that AI-powered driverless vehicles could achieve even further gains in supply chain productivity.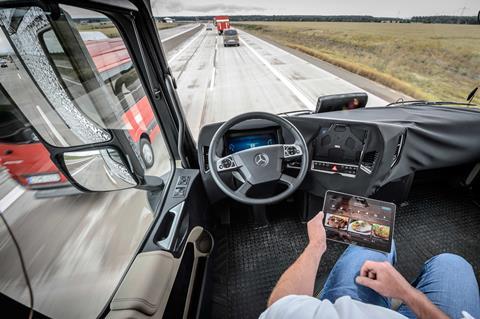 "Automation of vehicles and delivery will allow retailers to deliver items at a cheaper and faster rate, which will open up massive potential," he says.
Among retailers, there is a growing appreciation of the role AI will play in the retail industry of the future.
A recent survey of executives by Retail Week found that machine learning is tipped to have an impact on the sector by 82% of the retailers surveyed – yet only 48% currently use it in their business.
If the remaining 52% are concerned with boosting their long-term productivity, maybe it's time they too joined the AI revolution.
Does AI spell the end for humans?
Amid the excitement about the transformational effects of AI for retail productivity, there is nervousness too about the impact its adoption will have on humans themselves.
The narrative that more sophisticated machine learning will lead to mass redundancies has gained currency in recent years.
However, both Ocado and IBM – two of AI's most enthusiastic proponents – insist that it is about enhancing the productivity of the individual and freeing them up "to do more of the interesting work and less of the grind work", as Ocado Technology's Donkin puts it.
Ocado's SecondHands project is a case in point.
The goal of SecondHands – a collaboration funded through the European Union's Horizon 2020 Research and Innovation programme – is to design a robot that can offer help to a maintenance technician in a proactive manner.
Rather than fixing the problem itself, the robot provides a second pair of hands to the technician when he/she is in need of help.
IBM's Bagge agrees that AI is not about replacing humans.
"The best IBM Watson cases are all about augmenting," he says.
"All our designing techniques are around finding the right colour matches, the right fabrics, the right patterns. It still takes a human to say, 'I think this is the right thing to build'."
Even if there's no net loss in human roles, it feels inevitable that some AI applications will result in a shift in people's work functions.
Another Ocado collaboration, SoMa, is in the process of developing a robotic hand that is able to pick and pack groceries without damaging them – tasks still carried out exclusively by humans at Ocado fulfilment centres.
But even if robots ultimately take on these types of routine tasks, Ocado insists it will always need humans to do more advanced types of work.
"The history of Ocado shows that with our continued investment in automation there's no drop in work being done by humans," says Greg Cempla, general manager at Ocado Technology.
This feature appears in Retail Week's Productivity supplement, out this month. Read the supplement in full here.