Despite the proliferation of online content, the in-store magazine has grown in stature and sophistication, providing customer reach and engagement.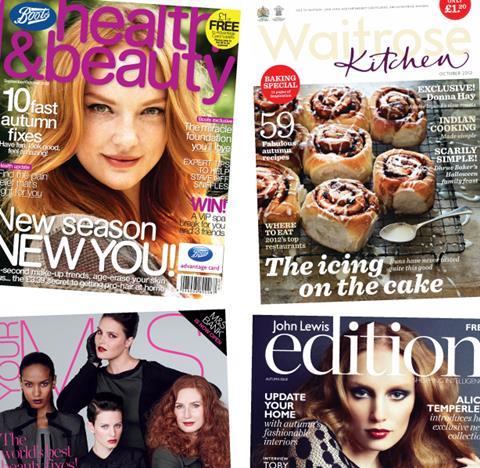 Customer magazines have long been part of retailers' marketing armoury, but such titles are proving more popular than ever as retailers increase their focus on driving loyalty and spend among their existing customer bases.
And as the prominence of retailers' magazines has increased so has the quality of content. "The biggest magazines in the country are retail magazines," says Content Marketing Association (CMA) chief operating officer Julia Hutchison. ABC circulation figures for June showed, for example, that free magazine John Lewis Edition continued to outstrip paid-for newsstand titles including Glamour, Cosmopolitan and Marie Claire in the women's lifestyle and fashion sector. Asda claims its Asda Magazine has the biggest circulation of any women's monthly in the UK with a print run of 2 million.
And a survey carried out for CMA last month showed that 61% of respondents read magazines published by retail brands or supermarkets. Some suggest this is a consequence of recession-hit shoppers switching to in-store freebies rather than paying for magazines.
Hutchison says that recent ABC figures showed a 3% increase for customer magazines but a 13% decline for consumer magazines, while Customer Magazines – a recent report from market analysis company Key Note – predicted growth in the customer magazine sector of 22.1% between 2012 and 2016.
Quality content
Such figures are promising, and retailers seem to be taking them on board, as many re-examine the in-store magazine model. Next month, bookseller Waterstones is publishing a new free magazine, Between the Lines, with more editions to follow next year. It will have a print run of 600,000 and be available online too.
Key Note editor Lucy Bishop believes that improved content is driving the change. "The evolution of the store magazine has involved publishers adding more informative content such as news stories, celebrity interviews and features, thus making such publications much more appealing to customers. Before, such magazines would be relatively small in scale and would focus solely on the retailer's products and services," she says.
Hutchison calls it "a rise of freemium content" – shoppers are hunting out free, quality content.
While their content might have evolved, the aim of the magazines remains the same – to encourage customers to spend more. The CMA research suggested an uplift of 13% on average weekly spend among those customers who were regular readers. "For us it's about customer loyalty, frequency and spend," says Cath Kidston marketing director Andrea Moore, whose magazine is published by Publicis Blueprint.
Those goals are applicable at any retailer but how to execute is simple in theory and harder in practice. "The number one aim is to inspire customers," says Kath Shaw, head of printed media at Asda national advertising, which also works with Publicis Blueprint. "It's an opportunity to show our customers interesting recipes, show them what's new in store and the latest fashion from George."
For many retailers it is also about helping the consumer understand how to use or identify with products. "It's a way of inspiring people to buy our range of products by showcasing them in real situations," says Moore.
John Lewis attributes its recent success in the fashion sector in part to the strength of John Lewis Edition, which it says has helped lend credibility to its offer. "It is a magazine that showcases our breadth of range and which has had a very positive effect on John Lewis as a fashion destination," says John Lewis head of brand creative Paul Porral.
Andrew Hirsch, chief executive at John Brown, which publishes John Lewis and Waitrose's magazines, says the power of magazines as a targeted marketing tool cannot be underestimated. "In the case of a magazine, it's an opportunity for the retailer to talk directly with its customers," he says.
"The magazine's primary role is to enable the customer to understand the retailer's positioning, point of difference with competitors and, in many cases, product offering. The average time spent reading a customer magazine is 30 minutes, so it's an opportunity for retailers to spend half an hour communicating with customers one on one."
Nicki Hill, managing director of retail and business development at Redwood – publisher of Boots and Marks & Spencer's titles – agrees. "A customer magazine demonstrates breadth of range, can deliver multiple messages and contextualise products," she says.
Working with agencies
Content marketing agencies – or contract publishers as they were once known – work closely with their retail clients and are the choice of many who enter the customer magazine market.
John Brown editor-in-chief Marie O'Riordan, who was formerly editor of Marie Claire, says: "Each issue, we tune into the client's needs – the key marketing messages and where they expect to see return for their money. We then apply that to a reader's sensibility, appealing to their calendar and desires, making something sound easy, useful and aspirational," she says.
Retailers' magazines certainly have a lot to deliver, so whether to produce in-house or externally is an important decision. The continuing evolution of the sector means an outsourced operation is often best.
"You need the expertise and the journalistic approach for it to feel, read and look like a newsstand title," Hill points out.
Harrods, on the other hand, brought publication of its magazine back in house in 2009, and at present it is also in the top 10 of the most-read women's lifestyle and fashion titles.
Hill believes that customer magazines, though perhaps best suited to "emotional" purchases such as fashion, beauty or home, can work in most sectors. "They work anywhere where a customer needs advice to purchase," she says.
Advertising income
However, not every retailer will want to make the decision to publish, according to Bishop. "The magazine development process through to publication of a magazine usually involves significant costs," she explains. "Although some magazines, such as Sainsbury's and Tesco's in-store publications, do particularly well and have a relatively high circulation, these companies' large economies of scale mean that they can invest significant amounts into producing an informative and compelling magazine that is attractive to consumers."
Many in-store magazines also carry advertising, however, and that can play a key role in making them pay in the long term. "We work hard to understand brands we work with and then integrate their objectives to ours," says Shaw. "If you keep the customer engaged and inspired, the sales will come and advertisers will continue to support you."
John Lewis' title generates more than £2m in advertising a year, across the four issues, and measuring the success of such titles is crucial, according to John Brown managing director Dean Fitzpatrick.
"Marketing budgets are being scrutinised more than ever. We work with our clients to design measurement programmes, including a range of techniques, from econometric modelling to measuring the sales uplift impact on products or services featured in our content marketing," says Fitzpatrick.
So in a world where customer communication is key, the case for an in-house customer magazine is strong – whether to publish or not is certainly a decision worth considering.