Big-ticket item purchases are increasingly completed online. So is traditional retail finance about to be transformed by the rise of online credit options? Alison Clements reports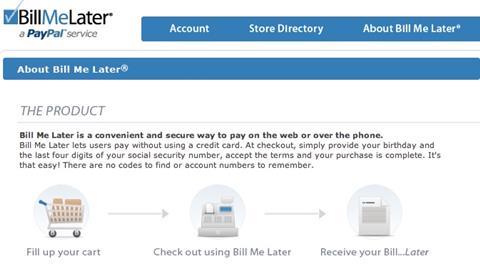 Forking out for big-ticket items can stretch many consumers, particularly in the current climate, so offering credit deals at the point of sale can help them spread their payments.
With the advent of the web, being able to offer 0% finance deals online sounds an attractive option for all parties, but the slow, complex nature of credit checking, and perceived risk of the borrower not being present has greatly hampered retailers to date.
Credit is pivotal for both DFS and BrightHouse, yet neither can facilitate online applications for credit today. Littlewoods can help registered customers 'spread the cost' with an online credit application facility and Argos clearly markets 'nothing to pay for up to 12 months' on its home page, encouraging online sign-up to its Argos Card. But the very nature of credit application – and the UK Government is pushing hard on responsible lending – means the online process is far from slick.
"Our aim is to give every online applicant an instant decision," says the Argos Card small print. "On certain occasions, we may be unable to give you a decision straight away. It may be necessary to gather more information or to check other systems so we may have to let you know in writing, usually within 7 to 10 days."
Moving with the times
Pay4Later managing director Scott Law believes it's time for web technology to propel online retail credit into the 21st century. "The technology allows retailers to offer credit in a CNP [card not present] scenario, without expecting customers to wait days or even weeks for the facility. It's a matter of having the systems in place for fast credit checking, and instant paperless processing once a simple e-signature is obtained," he says. Pay4Later recently teamed with banking group Arbuthnot as the lender to make this possible, and claims to be the first company to offer instant online retail credit.
"Most lenders are very conservative but the security of our system convinced the bank it could work. If you take out the element of having to print the credit agreement it becomes no different from taking a credit card payment, but spread out over 24 or 36 weeks." Pay4Later went live this year as a platform for retail finance and is used today by retailers including The Great Furniture Trading Company. Sales uplift from offering the service is about 20% but can be far more for retailers selling goods worth over £1,000, says Law.
"We've had a significant increase in sales and average order values," says Jonathan Harris, a director at The Great Furniture Trading Company. "Our
customers have responded well to the fact that they can apply and get an instant decision."
PayPal sees the potential of online credit too, with the purchase of BillMeLater.com three years ago – a popular deferred payment facility in the US.
UK consumers can already apply for a PayPal card online, which acts as a credit and loyalty card, offering 2% cashback on PayPal spending. "Customers that sign up can instantly have access to credit because the system works in a fast, smart way, carrying out the fraud and credit checks very quickly. It's also easy to manage within customers' PayPal accounts," says Duncan Olby, director of financial products at PayPal.
Minimising the risk
Having online data on existing PayPal customers means the card is only marketed to those likely to qualify for it, cutting out the risk of disappointing customers. Although this means the service isn't broadening the customer base or helping less well off customers, it does mean there is less risk for the lender "and we see a large uplift in spend from customers who take the product", says Olby. "It means people can spread the cost and buy a bigger sofa, or a better-quality TV."
"The retail credit process has been in the dark ages, but now we're harnessing the right technology and sticking dynamite under it," says Law. "Retailers know finance can be a potent sales tool. But they want feature-rich, highly-automated, fast, reliable systems to suit customer needs. This way of accessing retail credit will soon be the norm."
There are limits to sales growth potential though. Retail finance, in the form of deals through store cards and at point of sale, only accounts for 8% of total consumer finance, according to the Finance & Leasing Association (FLA) because credit cards dominate. And Government policy is working against the credit culture, says FLA head of communications Russell Hamblin-Boone. "The Government, through the new Consumer Credit Directive, is actively discouraging lenders from tying consumers into deals. For instance, legislation will be extending the 'cooling off period' so that consumers have longer to think about what they are signing up to. Consumer protection will be increasingly stringent in the coming years, so retailers will only be able to sign shoppers up to deals if they are credit worthy."
Coming Attraction: deferred billing
Founded in 2000, BillMeLater was acquired by eBay Inc. in 2008. About a third of US online retailers offer the service, including WalMart, Costco and Apple. Integrated into the merchant's checkout experience, BillMeLater provides a secure way to pay using 'deferred billing'. Customers provide their birthday and the last four digits of their social security number, and accept the terms and conditions, to complete the transaction. It offers customer convenience and extra buying power at point of sale.
"For Europe, we are developing products around the BillMeLater system to offer services without the need for a card, that will be more widely available on other retail sites," says Duncan Olby, director of financial products at PayPal.
The future is here
1

2

3

4

5

6

7

8

Currently reading

The rise of online credit options