The Sports Direct founder's accusations of impropriety at JJB sparked a furore, but it's all just part of the game for the kingpin who issued results this week, says Lisa Berwin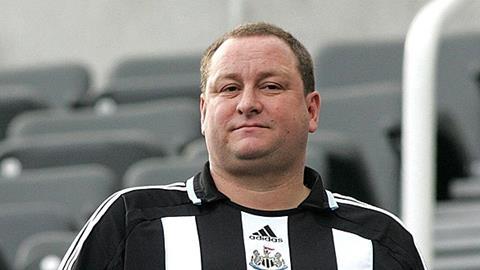 Depending on who you talk to, Sports Direct founder Mike Ashley could be described as many things – billionaire, gambler, whistleblower, football club owner, fun-lover, family man, trouble maker, squash player, retailer… the list goes on.
Love him or hate him, there is never a dull moment in the life of the colourful entrepreneur. Once a recluse, whose photograph had not been published until his sports business floated in 2007, he now hits the headlines – both in the business and sports pages – more than most.
Ashley – one of only a few self-made billionaires in the UK – is revered by some close colleagues but despised by others. As he squares up to retail legend Sir David Jones – in what many see as an attempt to tarnish the name of the much admired businessmen – he has become for many the villain of retail.
Questions over when he loaned Jones £1.5m might rumble on but the row is just the latest controversy to hit the sportswear market. And it is further proof of the incestuous sports retailing sector and the power that Ashley wields within it.
One source who has worked in sportswear said: "The sports world is dominated by him [Ashley] and it is very unhealthy. Everyone is mesmerised by him."
Few would say, though, that Ashley has not been phenomenally successful in building up his empire from just one shop. His pile 'em high, sell 'em cheap stores might not be to everyone's taste but satisfy a large and lucrative market.
However, another of his business endeavours – owning Newcastle United – has not proved quite so successful. The club has suffered since Ashley took over and was subsequently relegated.
He is said to originally have loved owning the club and was often seen riding the fans' buses and doling out beer to the supporters.
But his decisions eventually led to fans turning against him and he even suffered threats against his children. Those close to him say this swell of fan resentment deeply upset him. One source said: "He was really quite affected by it, he really wants to be liked."
Those close to Ashley have huge admiration for him. They say he knows his business back to front and is very generous – one year he is understood to have given a sports car to a top-performing store manager.
His determination is also apparent. The young start-up entrepreneur, originally from the South, triumphed in the sports sector despite the famous threat from his then-rival, JJB Sports founder Dave Whelan: "There's a club in the North son and you're not part of it."
Some say Ashley gets his kicks from playing games in business – shopping Whelan and others to the Office of Fair Trading for price fixing and allegedly leaking details of his loan to Jones seems to be all part of that game.
One source said: "Mike Ashley loves the game and the intrigue. Making money is not that important to him."
If money is not that important to him, he was probably amused rather than concerned by the offers he received for Newcastle United. Bids are said to have included £10, some Oasis tickets and a Curly Wurly bar.
Ashley constantly looks forward, sources say, despite losing money on ventures such as Newcastle United.
This week Sports Direct updated the City on its full-year results and the latest row with Jones has spurred analysts to raise questions over the sports retailer's corporate governance.
But it is almost certain Sports Direct will continue to play its own game and Ashley is unlikely to toe the line any time soon. The retail world is littered with lively characters and most would agree – except possibly Jones – that it would be far duller without Ashley.
The famous Mike Ashley moments
Playing a game of spoof with bankers at Merrill Lynch to decide who would cover legal fees – which he lost
Making £1.3m on a single spin of a roulette wheel
Apparently presenting soiled underwear to a shocked table of advisers the night after they took him for a rather powerful curry
Calling Panmure Gordon analyst Philip Dorgan a "moron" and hitting out at unhappy Sports Direct investors as "cry babies"