Which areas of in-store operations do retailers fall down on - and how can they improve them? Joanna Perry finds out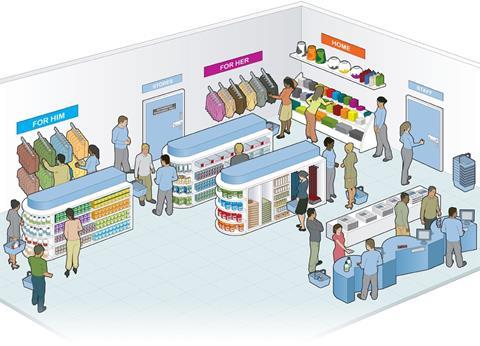 Case study
Find out how Kurt Salmon Associates has helped leading retailers reduce labour costs by 7.5% and improve customer service and loyalty by 20%. Read about the tools and techniques — and the results — that can be achieved by reducing the variability of performance between "the best" and the "rest" of the stores in your portfolio.
Nearly every retailer has found it harder to attract customers to their stores in the recession. Having the right products and store interior is critical, but how the stores are run is also crucial to the customer experience.
One problem that never seems to go away is availability. Former Best Buy chief executive Bob Willett says retailers must think of the supply chain journey as being right through to the customer's home. Supply chain optimisation has tended to focus on transport and distribution centres - but it is just as crucial to look at those few steps from the stockroom door to the shelves.
Kurt Salmon Associates senior partner Richard Traish says: "Retailers are still struggling to retain the right level of availability in-store compared to what the system says they have in stock."
Halfords chief executive David Wild is keen that the retailer makes deliveries that are easy for stores to process, and are optimised for the weekly trade pattern. He says: "Delivery comes to the back door, but then the product has to get to the shelf." He is aims for stock to go straight from delivery to the shelf.
Problems can also occur as retailers try to react to customers on a local level. Retailers can allow decisions to be made for individual or store clusters by central systems.
At the same time store managers must be given more responsibility for areas where they can make a positive impact, such as customer service and local
marketing. Measuring their success can ensure the customer experience is more uniform across the chain.
Aligned to this is the role of store staff. One way to engage store staff is to give them more responsibility for delighting customers, and providing value-adding services. This requires calculations about which staff are working when, to ensure you have the knowledge and skills to pass on to your customers.
The final point, made by Kurt Salmon Associates partner Tim Robinson is that retailers must not be complacent about the operation of the majority of their stores that are doing OK. He says they need to "create a sense of urgency in a store manager that is meeting all of their objectives but could be doing 5% better."
Localisation
Issue: To be customer-centric retailers need to react to local demand, but a lot of decision making in their operation is centralised.
Actions: Decisions don't always need to be completely devolved to store managers in order for local factors to be taken into account.
New Look uses an inventory optimisation system for replenishment to direct stock to stores where customer demand means margin will be maximised.
Kurt Salmon Associates' Traish highlights how Specsavers surveys customers store by store on the Continent to generate net promoter scores, and lets stores address their own plan. Carphone Warehouse similarly measures net promoter scores at the store level and even for individual staff. In the US, Macy's has decentralised decision making for assortments leading to a 2.5% sales uplift in test stores.
Availability
Issue: Poor availability is an ongoing issue, and it's often hard to tell that customers are not finding what they expect on the shelves.
Actions: Supply chain and retail operations need to be better integrated, and retailers need to measure lost opportunities, not just what was sold.
In 2008, Sainsbury's merged its logistics and retail director roles after the grocer suffered from very public availability problems.
Argos is able to measure sales lost through poor availability using data from its stock checker machines. Best Buy also uses a sample of stores to measure lost opportunities.
American Apparel has adopted item-level RFID in a number of US stores. Sales at RFID-enabled stores are up more than 14% compared with the rest, staff labour has been reduced by 20% to 30% and the almost 100% stock visibility has allowed inventory reductions of up to 15%.
Halfords is working on supply chain improvements so deliveries are more store-friendly, allowing for 'one-touch replenishment'.
The human touch
Issue: Store staff need to focus on value-adding activity to maximise customer loyalty.
Actions: Empowering staff to provide excellent service is good for them as well as customers.
Some retailers have started to explore self-service kiosks as a way to achieve this - opening up their whole web range to store customers - but for others better staff training and giving staff tools to assist customers is the way forward.
John Lewis has offered a staff-assisted web sales service in stores for a year. Two thirds of customers who order from the site at the till in-store have never used the site before - and 15% go on to make subsequent web purchases.
Kurt Salmon Associates' Traish says: "The store of the future is one where store management has a direct conversation with customers through multi media."
Brand consistency
Issue: Customers expect the same experience in every store and channel at all times.
Actions: Systems can help to ensure services are uniform.
Halfords says 80% of its web sales reserve products for store collection - and this allows it to offer value-adding services such as bike assembly. Customers get the same service whether they reserve online or from stores and are less likely to return goods.
Carphone Warehouse has deployed a standard operating model for its store managers to help unify the experience across its chain and give staff more time to spend taking care of their customers.
Marks & Spencer is the latest retailer to deploy a workload optimisation system across its stores to plan store and marketing activities more efficiently, providing visibility of activities and workload by organisation, store and individual roles.