Tesco has become the first UK supermarket to sign a public pledge to support armed forces personnel as part of a "corporate covenant".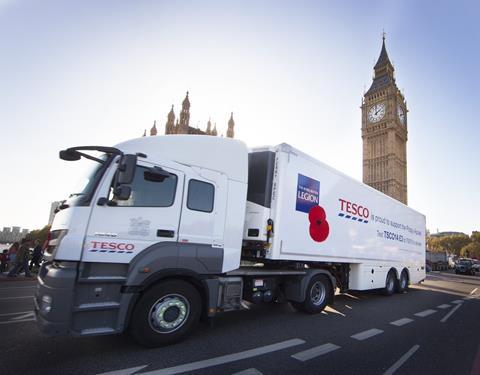 The pledge will involve Tesco seeking out veterans for employment and supporting spouses and partners of serving personnel by offering them jobs.
Tesco will also promote the Reserve Forces to its staff and give extra consideration for holiday requests from partners of those serving in the armed forces.
Prime Minister David Cameron launched the 'armed forces covenant' last year in an attempt to encourage businesses and charities to do more to show support for Armed Forces personnel.
In order to boost donations for this year's Poppy Appeal, a specially designed Tesco delivery truck will drive around London with details about how to donate to the Royal British Legion.
Meanwhile, over 7,000 delivery vans will be redecorated with poppies and signs on fourteen large Tesco stores in garrison towns will change their signage during the Poppy Appeal.
Tesco UK managing director Robin Terrell said: "We have a long association with the Armed Forces dating right back to our founder, Jack Cohen. Our servicemen and women make sacrifices every single day, and as the UK's biggest retailer we want to do everything we can to help them out.
"We have huge numbers of serving and former service personnel working for us, and they bring an enormous number of benefits to our business. We are honoured to be the first supermarket to sign the Armed Forces Corporate Covenant."
Defence secretary Michael Fallon hailed Tesco for becoming the first supermarket to sign the covenant and credited Tesco with helping bring "real change for those that have bravely served their country and their families".
Rival Sainsbury's is expected to feature the football match that took place between the British and German forces on Christmas Day for this year's festive campaign.
The supermarket has a 20-year-long partnership with the Royal British Legion and holds off from launching its Christmas ad campaign until the Poppy Appeal has come to an end.