Retail Week spoke to Tesco's former multichannel director Robin Terrell prior to his taking over running the retailer's UK leadership team.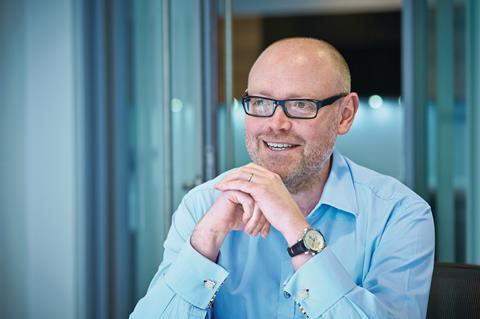 Robin Terrell is a man on a mission. Tesco's group multichannel director aims to turn the grocer into a global multichannel leader.
Realising such an ambition would be no mean feat, especially when Tesco is struggling in its domestic market in the face of massive structural change.
But it is an ambition Terrell believes is achievable, and he joked earlier this year that he would know when his job was complete when Tesco doesn't need a multichannel director anymore.
"It was never going to be a quick exercise," Terrell tells Retail Week. "With the breadth of our offer and the scale of our business, it was always going to take time. But we've made significant progress this year and are confident about our plans for next year."
For Terrell, who joined Tesco from House of Fraser in 2013, the most important factor in building a multichannel future is putting the customer at the centre of the plans. "Being multichannel is about putting the customer at the heart of what you do, it's about changing customer behaviour," he says.
Terrell is taking his customers on a journey, and it is one that he believes will pay off. He says the percentage of transactions that are multichannel vary dramatically between category. Entertainment and books are high at up to 60% and grocery is around 5%. But he observes:
"The direction of travel is clear. Purchase journeys are becoming much more complex and most include some element of searching online even if the transaction is in the store."
Engaging customers
At the beginning of this year, Tesco reported that around 4% of its customers shopped in-store and online for both grocery and general merchandise.
And those customers spend an average of three times as much as other shoppers. "While 4% sounds like a small number, that number of customers is growing 17% year on year," points out Terrell.
The Hudl tablet was a key launch for Tesco, he says. "Overall it sold around 750,000 products but it isn't just about the hardware. Those customers engage with us on a broader level, are interacting with our brand as a whole and spend more."
Terrell says Tesco experienced mid-single-digit uplifts on Tesco overall from Hudl users, and "big increases" in digital entertainment. Tesco is confident in its Hudl tablet, and a second version was poised to be launched as Retail Week went to press.
A seamless experience
The key to winning in an omnichannel world – the theme of the debate Terrell is heading at the World Retail Congress – is creating a seamless experience, Terrell says. "We are not seamless yet but we are working hard to break down all the barriers."
Tesco sought to break down one of the barriers to online grocery earlier this year by overhauling its delivery prices. "In any product category the number one barrier to online shopping is delivery prices," says Terrell. "We had allowed ourselves to get out of line with the market on delivery prices so we made significant investment to achieve a market-leading position."
The grocer lowered the prices of its Delivery Saver product, introduced free click-and-collect for groceries, and also offers a guarantee that if customers don't spend enough to make its Delivery Saver worthwhile, they would get their money back.
"We're very confident in the movement in terms of market share of online grocery that we've seen as a consequence of these changes," says Terrell.
"It's about putting the customer at the heart of what you do and changing consumer behaviour"

Robin Terrell, Tesco
The battle for multichannel dominance is fast-paced so Terrell says Tesco will continue to try out new things. "Online moves so quickly and customer expectations change fast," he says. "We've got a history of trialling things even if we don't get it right because that's the only way to get ahead of the curve. It's part of innovation."
Terrell cites the axing of the Tesco smartphone launch as an example of where retailers have to change their plans.
Tesco said in March that it would launch a smartphone, following the success of its Hudl tablet, but shelved plans earlier this month.
"We saw a gap in the market and were confident that we could bring something out that would be different, but the market changed, competition heightened and there is no point doing a me-too offer," he explains.
The former Amazon UK boss believes there are many challenges to achieving multichannel leadership. "There are economic challenges as well as tech challenges," he says.
"The IT department used to be there for making sure the tills worked, and the lights went on, but now there is a completely different mindset – they are a strategic enabler."
Terrell says how to develop technology in this new environment is a challenge. "It's a new world and it requires new skills," he says.
He explains that all retailers are also battling with legacy systems, even pure-plays that have obviously not been around nearly as long as retailers such as Tesco. "There is legacy in every business and how you deal with that is part of the multichannel challenge," he says. "It's like markdowns. Your first price is your best and if you put it off, it gets more expensive over time. You have to grasp the nettle and deal with it."
Terrell has his sights firmly set on multichannel dominance, but as Tesco battles turbulent times and new chief executive Dave Lewis was drafted in following a profit warning, will the strategy remain on course?
"You don't change CEOs and expect no change," says Terrell. "However, it's very early days and of the conversations I've had with him [Lewis], the one thing he is focused on is the customer. And that is where we are coming from with our push for multichannel leadership – we are responding to our customers' needs."
So what does the future hold in the battle for multichannel?
Terrell believes it is personalisation. "One of the big promises that the internet made but has not fulfilled is personalisation.
"I do think we are entering an age of mass personalisation but it needs much more work, it is not there yet."
He believes Tesco Clubcard, and its research arm Dunnhumby, are key weapons in the grocer's armoury in the fight for multichannel leadership.
"The data we have on Clubcard gives us a much deeper relationship than other retailers and can mean we can achieve that seamless experience," he says. "We have an opportunity to lead and to bring to life that personalisation."
Multichannel leader
Terrell added: "The data we hold means we can be one of the multi­channel leaders, if not the outright leader."
He explains that with 20 million shoppers every week, Tesco can go a long way with personalisation.
So for Terrell, the future is far from Amazon drones or any other far-fetched project, but rather a return to the intimate relationship between retailer and customer via personalisation. "We're excited to signal a hail back to the standards of old-fashioned corner-shop retailers," he says.
A return to a focus on the customer is clearly Lewis' priority as he takes over the reins, and it looks as if Terrell and his team are already there.
And with so much to do, it seems Tesco needs its multichannel director for some time yet.