Basket abandonment is one of the biggest problems retailers face in the online shopping journey but winners of Retail Week's first hackathon Kega Retail may have found a solution.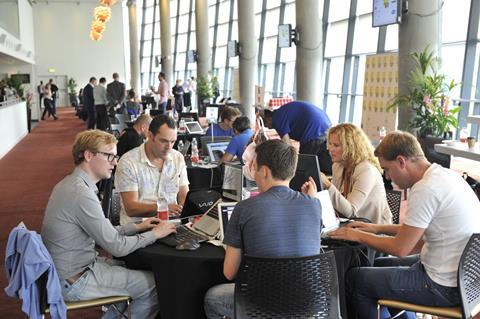 Kega Retail, a Dutch company that creates technlogy-enabled marketing services, today won Retail Week's first ever hackathon at the Technology and Ecommerce Summit. It caught the judges' eye with its idea of linking online shopper behaviour with ibeacon technology in store.
The hackathon asked teams to create the ultimate customer experience. Kega's solution means that if a consumer leaves a product abandoned in her online basket, the system will remember that product - when she is next passing the retailer's store, it will send messages to her mobile with promotions prompting her to buy it, and telling her if her size is in stock.
Beating nine other teams to take the top spot after brain-storming their ideas over a 24-hour period, Kega took the gold. Teams from Deloitte Digital and Tesco Labs were runners up.
John Lewis head of IT strategy and architecture and hackathon judge Julian Barnett says: "We retailers are really struggling with how to get an end to end customer experience which recognises the difference between the online and offline worlds.
"We know that the benefit of an omnichannel experience increases shoppers spend by two to four times as much. And the customer really values a seamless experience online and offline.
The development from Kega made me realise what might happen [in retail] quite quickly."
Kega's idea gives retailers another opportunity to close the sale once the customer has shown interest.
If the customer browses products online and doesn't buy because the retailer doesn't have the correct size, the retailer can then target the customer if they go into store to shop or is even shopping nearby through beacon technology fitted in its stores. So, as long as the customer has the retailer's app, the retailer is able to use online shopping and browsing data to pull her into the store by, for example, alerting them that the store has the size it was sold of online. It can also offer vouchers and money off coupons.
In addition, if the customer is browsing in store, the beacons record their journey and what products the customer shopped around and it then uses this information to give personalised offers when they log in online.
Kega team member Anton Evers says the team could see that abandonment was a very big problem for retailers, with 68% of online orders abandoned on average.
"It's a whole package," he says of the idea. "It was just about connecting the two things that were not connected before."
Hackathon chair and head of open innovation Tesco Nick Lansley says Tesco Labs may explore Kega's idea. He says: "We want customers to experience the future.
He adds Kega's omnichannel approach caught the judges' eye: "The difference with Kega was that they created an experience across channels. It is a nice way of re-engaging with the customer in store. It's really about making sure the customer is comfortable and the team is giving them what they want."
The other finalists were Deloitte Digital for their digital in-store experience and Tesco Lab's coffee lab, cutting queuing times for coffee. Commendations also went to Clear Returns and Ometria.
The other judges were Practicology founder Martin Newman, partner at Founders Forum Henry Lane Fox, Trustart partner Baz Saidieh, Reevoo founder Richard Anson and SAS manager retail ROST Andrew Fowkes.
Co-partner for the Retail Week Hackathon is SAS. Technology partners are Inition, Localz and Poq Studio. Data partners are Experian Footfall, SalesGossip and Tesco Labs. Supporters are Urban, Konditor & Cook and Hotel Chocolat.
Retail Week Hackathon: Top-ten shortlist revealed
1

2

3

4

Currently reading

Retail Week Hackathon: Kega Retail win with seamless end-to-end technology

5

6