The trailblazing etailer is in for a busy year. As well as launching Morrisons.com it has big expansion plans of its own, all hinging on innovative use of technology. By Rebecca Thomson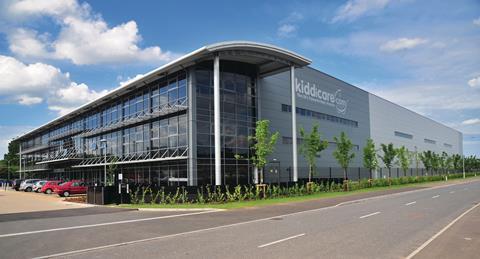 Online childcare retailer Kiddicare has already generated its fair share of headlines this year. Not only is it eyeing £100m turnover and accelerated international growth in its own right, but Morrisons, the last of the four big grocers to go online, obviously thinks it has something special as well. The grocer bought the business in February, and Kiddicare chief executive Scott Weavers-Wright will oversee the roll out of Morrisons.com in the coming year.
Best in class
There are few retailers that can claim to be ahead of the curve on technology, with the fast pace of change and legacy systems often combining to make just keeping up an effort. But Kiddicare has managed to become one of them as it carves out a space for itself in the childcare market, with an online platform that has become the envy of latecomers to the ecommerce party and in-store technology that's aeons ahead of many.
It no doubt helps that Weavers-Wright was an IT consultant before starting at Kiddicare, which began as the family business of his wife, Elaine, and her parents. The company's 160,000 sq ft showroom in Peterborough is its only store, with 80% of sales online, and its plans for expansion currently rely exclusively on online growth. At this stage it's too early to say what the network of Morrisons' stores could mean for the business, but it's safe to say Kiddicare's management will find some innovative way to make use of everything available to them.
Technology officer Simon Harrow says Kiddicare's technical success is down to the company's culture. Everyone in the business has some level of technical knowledge and everyone is aware of how crucial technology is to the retailer's growth.
"It's not feared in the business," he says. "It's celebrated. We're in a fortunate position, because the IT department is not a segregated group. The whole company, from the top down, understands how important it is."
This focus is what led to the company developing such a successful online platform - which runs on IBM Websphere, Endeca and Coremetrics systems - as well as becoming one of the leaders in multichannel developments. One new initiative even makes use of someone else's channel, with the Kiddicare iPhone application allowing customers to scan products while in other retailers' stores and compare prices with its own. The application is also transactional, meaning a customer can go into another retailer's showroom, try out product, and then buy it from Kiddicare there and then. It might not be the only retailer to use scanning technology to steal customers from under competitors' noses, but it's certainly one of the few young etail upstarts to do it.
Kiddicare in numbers
80% of the retailer's total sales comes from online
Mobile sales account for between 2% and 5%, and are expected to grow to 20% by the end of the yea
The site gets 50,000 visitors a day
Kiddicare's turnover is £50m a year
Kiddicare in Peterborough is 160,000 sq ft
About 4,500 products are sold online, although this number is growing all the time
It has 30 in-store kiosks that customers can use to order and pay for goods. 70% of store customers use them
Coming of age
So what does the coming year hold for the company? Kiddicare has a busy time ahead, with work ongoing to launch Morrisons.com and plenty of activity surrounding its own growth to be getting on with. In terms of expansion, it was already planning to launch a consumables section this year, with plans to sell nappies and other products as it aims to morph into an Ikea style one-stop-shop for all things baby related. The Morrisons deal, and the access it gives to the grocers' product ranges, will no doubt accelerate that.
Just like any online retailer worth its salt, Kiddicare is planning to ramp up its online content in 2011. It already allows customers to leave product reviews and it lets people search comments according to who left them - meaning parents can find others who are first-time parents, or others who have premature babies, for instance. This sense of community looks likely to become more important for retailers that are based predominantly online and must increasingly compete with ever more web-savvy multichannel retailers whose high street brands are well established. Kiddicare is certainly ready for this particular challenge. It wants to become an advice hub for parents, but will publish advice and content from others rather than attempting to become the authority itself.
"We want to become a facilitator," says Harrow. "We don't want to say 'this is the best buggy for you', because we don't have any right to say that. We want to give people a selection, and say 'this is what other customers like you have bought'."
Mum's the word
Product demonstrations on the site are already viewed 1.2 million times a month, and there are plans to allow consumers to upload their own videos. Also planned are panel videos, where a panel of three parents gives its view on a particular product. "There's a huge opportunity for this brand to get more emotional, and build more of a relationship with customers. At the moment it can be too clinical." Developing this relationship, Harrow says, will encourage customers to come back again and again.
A new customer relationship management (CRM) system will kick-start the process of producing tailored marketing recommendations, and talks are ongoing with parenting websites and blogs with a view to collating and distributing their content. The aim is to become entwined with customers' lives from the moment they become pregnant up until their child is three years old. "If you can't get a connection with customers in this period of their lives, you can't do it at all," says Harrow. Overall, Kiddicare will be less concerned with a customer's single order value and more concerned with building a long-term relationship. "We have got the platform technology and the proposition, now we need a brand of the type that customers can buy into."
With so many plans on the go, it's impressive that Kiddicare has time to simultaneously help launch it would have been an interesting year for the company, but as it is, it's likely to become one of 2011's most exciting UK retailers to watch.
Kiddicare's next steps
Content
The retailer is planning user-generated video, allowing parents to upload files. It is also planning panel videos, where three parents will talk about a product. Plus, customers who give a four star review of a product will be asked if they want to become product advocates, which means getting alerts every time someone asks a question about that product and being given the option to answer it.
Customer relationship management system
Kiddicare will start on the journey to personalised recommendations, using past purchases and personal data to suggest new products. Eventually it will aim to produce individual recommendations for each person.
Store technology
Digital signage is being rolled out across the store, and there are plans to use interactive plasma screens that allow customers to choose product videos to watch.
Target consumers earlier in their pregnancy
"Mums go on an information hunt as soon as they're pregnant," says Kiddicare technology officer Simon Harrow. "From a marketing perspective Kiddicare catches you at about your third trimester, and we need to move to the first trimester." It will use good-quality content and a strong presence on high-profile parenting blogs to do this.
Online
The website will be relaunched, and specified day delivery will be offered.
International
Kiddicare is about to start trading in Scandinavian countries, and will roll out its website to others if it goes well.