Last chance for global tech start-ups to get in front of retailers and gain unrivalled exposure across Retail Week's network.
On the back of high demand, Retail Week is spreading the festive cheer by extending the entry deadline for Discovery 100 to midnight on Tuesday January 7.
A major global report, Discovery 100 will identify the top 100 start-ups from around the world working with retailers to offer disruptive solutions to transform their businesses.
Discovery 100 will be hugely popular with retailers and investors as they search for the next game-changing technology that will help them gain competitive advantage.
 You have until January 7 to tell us about your retail solution and be discovered by retailers around the world.
The campaign is seeking out tech start-ups launched on, or after, January 1, 2013, that have run a pilot or full-scale solution with a retailer (or retailers) to help them drive business outcomes and grow their brand.
Examples could include supporting a retailer to implement an innovative solution, improve its financial performance, attract new customers or gain market share.

Entries will be shortlisted by a judging panel of business leaders, industry experts and journalists, including Co:Cubed chief executive Jeremy Basset, Morrisons' former chief technology officer Anna Barsby, retail adviser Ian Shepherd and Retail Week's head of insight Lisa Byfield-Green. View the full judging panel here.
The 100 successful entrants will then be celebrated and championed through the Discovery 100 report, publishing in spring 2020, which will be distributed to Retail Week's global audience of senior decision-makers in retail. Start-ups will also receive digital copies to circulate to their own networks.

The report promises to be a PR coup for the start-ups featured and will help bridge the disconnect between the start-up community and the retail industry.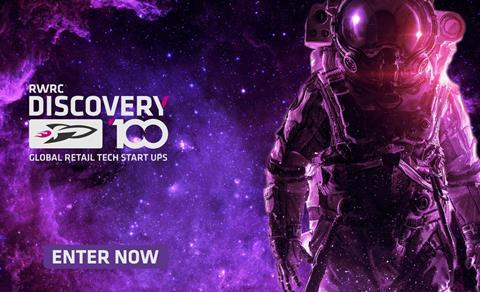 Last chance to put your start-up in the spotlight!
The Discovery 100 report will illuminate how start-ups can help retailers open windows to new and untapped business opportunities.
Submit your entry  here  today to be in with a chance of featuring. Entries officially close on January 7.
Be seen. Be heard. Be discovered.