Technology has made it easier for consumers to shop around, but retailers are hitting back and using digital innovations and traditional techniques to amass loyal followings.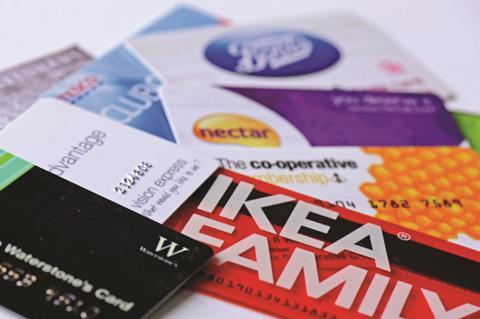 Shopper promiscuity is here to stay, according to Sainsbury's boss Justin King. People are now visiting three or four stores and that's "the reality of grocery shopping", he said earlier this month.
Today's shopper is undoubtedly a different breed to even 12 months ago. Hit hard by the downturn, consumers are desperate to unearth what they feel are the best deals. Advances in technology have enabled them to do that faster than ever, wherever they are and whenever they want.
According to an Omnico study, one in 10 shoppers has bought from a rival's website while in a store and almost a third said they had showroomed. As SAS and Conlumino's loyalty report this summer concluded, it's a buyer's market.
So should retailers be concerned with the trend of shopping around? "Shoppers can still be loyal to a retailer," says SAS retail specialist Alex Fovargue. "But even if you are 100% loyal to, say, John Lewis, if you're buying a flatscreen TV you'll always check somewhere like Amazon just in case. Technology has clearly been an enabler for consumers."
While a smartphone in a shopper's hand could tempt disloyalty, it also holds the key to encouraging them not to stray.
As well as being a threat to loyalty, technology provides new ways for retailers to better understand and engage with their customers on a personal level, explains Crispin Lowery, general manager of stores retail at telecommunications, internet and financial services provider Telefónica UK.
"Mobile devices will [soon enough] be able to navigate people through stores, alerting them to their friend's favourite T-shirt, the brand they like on Facebook, or the one with the best corporate social responsibility rating, and all depending on what the consumer values as important to them."
The possibilities are endless, but so too is the data behind such innovations. Some retailers have yet to fully understand big data while others are embracing it, but nearly all want it, as a rise in loyalty schemes has demonstrated.
Capturing data
The SAS and Conlumino figures show loyalty cards are very popular. About 95% of shoppers have one, while 40% are less likely to shop somewhere that doesn't offer a loyalty scheme.
The information they offer retailers is invaluable. "Insight is critical and retailers must capture it, segment it, work out what consumers want and how to deliver it," says Guy Chiswick, managing director at Webloyalty.
Tesco provides a case in point with its Finest and Value ranges, which it developed based on insight from its Clubcard data.
Much of Tesco.com is modelled on that data too, according to David Ciancio, managing director for customer strategy at Dunnhumby, which mines data from the supermarket's loyalty scheme. Ciancio and his colleagues are in no doubt that loyalty schemes can be a "strategic asset".
Tesco was one of the first to cosy up to its customers with a loyalty card, while discount bookseller and stationer The Works is one of the latest.
Its chief executive Kevin Keaney claims the loyalty scheme marks "a new approach" to customer personalisation, reward and retention for The Works.
It will provide "a true understanding" of the customers and what they are buying, he says.
"Without a card, it's hard to do that," Keaney explains. "Look at Holland & Barrett - why did they do a [loyalty] scheme?
They've got no obvious competition on the high street, but they wanted that wealth of information on their customers.
We wanted that too."
Emotional connections
The value of data in driving loyalty cannot be underestimated. Simon Langthorne, customer loyalty manager at Homebase, is exploring ways to talk to customers through new channels. One recent trial involved offers appearing on customers' bank statements alongside their purchases.
"The benefits of a loyalty scheme are driven through how effectively you use the data and how this insight is used to make the customer experience more relevant, timely and personal," he says.
"This gives you a more emotional brand connection, not just a promotional 'buy X, get Y', so customers will want to come back to you time and again."
This is critical given that shoppers' emotional connection with brands can ebb away as they hunt for the best deals.
But as technology tempts customers away, retailers can also use it to pull them back - and quickly.
"We've been working with [Swiss fashion brand] Heidi and it was clear that they didn't want to talk to their customers about sales and discounts - they wanted to be part of the family," explains Thomas Arenz, head of marketing communications at Samsung Semiconductor Europe.
"They wanted to build a very personal relationship with them. When you think how long that process would have taken 10 or 20 years ago, you can see the beauty of technology."
Technology can also help with the customer experience in store. Heidi, for instance, is launching an app for its shop assistants.
Arenz explains: "The moment a shopper checks in at the front of the store, the shop assistant will be able see everything from their previous activity to their colour preferences."
Of course, retailers have to be careful not to get too close. He adds: "You're walking a fine line between big brother and something that's exciting and customers want more of."
Innovation can be as important as personalisation for retailers keen to enhance the in-store experience. Eben Sermon, director of relationship marketing and loyalty (EU) at eBay, says the way in which consumers earn rewards will have to become "more engaging". "Think of integration with connected cars - 'turn right for free doughnut' - which could get traction by 2017," he says.
In the shorter-term, mobile, geolocation technology and social media have been identified as key facilitators of the evolution of loyalty.
The emergence of mobile wallets, for example, is likely to provide the ability to recognise customers as they enter the store, offer real-time rewards as they search and browse and then deliver bonuses as they swipe the device. But just how loyalty programmes become integrated into mobile wallets and consumers' speed of adoption are "large questions for the industry at the moment", observes Sermon.
Combined with other technology, such as near field communication (NFC), mobile wallets could make the delivery and redemption of loyalty offers less confusing.
To date, NFC has mainly gained recognition for contactless payments, but its true power sits in its loyalty and marketing capabilities. Today's consumers are inundated with loyalty cards, coupons and special offers. It's a minefield for them to remember when to use which offer, by what date and where. Too much focus is being placed on the consumer to remember they have an offer and to take action and that can create a negative brand association if they forget.
Given today's tech-savvy consumer, retailers should be making use of smartphones to create a more seamless retail experience, which supports customer loyalty. This can be done utilising NFC to relay offers in real-time, ensuring that the customer never misses out.
Of course, NFC is not immune to the temptation of inundation. "Every time you step into a mall in the US, your inbox fills with offers from 200 retailers," says Fovargue.
The web, email, SMS and social media have all made it much cheaper for retailers and brands to communicate with their customers. This has led to message overload. According to Ciancio, the average consumer receives 5,000 marketing messages every day. "That's double the level it was 20 years ago, so it's little wonder that they're tuning out both consciously and unconsciously," he says. Indeed, SAS and Conlumino's research found that almost a third (30%)of retailers feel their own marketing efforts are unsuccessful. Some 72% said that more consumer insight would make a difference.
Keeping customers loyal
Research from Deloitte found that people who use their mobile while shopping spend 61% more compared with an average trip. In addition, those who consult their smartphone beforehand spend 14% more.
If the offer's right they will make the effort, says Arenz, but that excitement needs to extend in store too, which is where the seamless multichannel experience comes into play.
SAS found that 73% of consumers would be likely to shop again with a retailer that went out of its way to offer good service. That falls to 39% if the retailer is not the cheapest. John Lewis, which this month launched its own loyalty card scheme, provides an example of how to get the mix right, says Amelia Boothman, director of brand strategy at consultant 1HQ.
"It's excellent at price matching, so the consumers know the price will be competitive, but it's also highly trusted for customer service, delivery and no-quibble returns."
Excellent customer service remains a potent way to retain customers. What's more, average spend jumps from £21.73 to £30.41 on the back of a positive in-store experience, according to a recent report by customer insight agency SMG.
The world may have changed, but customers still want the same things they always have - good service, value, availability and an appealing, navigable store environment - says Superdrug marketing director Matt Walburn.
Leigh Rengger, Waitrose head of customer loyalty, agrees: "To achieve and retain loyalty it is critical to understand customers at all communication touchpoints and across all shopping channels. As customers increasingly choose to communicate and shop in multiple ways, the challenge is to meet their needs in an omnichannel environment."
Get the experience or the service wrong and technology can turn from friend to foe. As head of First Direct Tracy Garrad explains, social media has made the public more discerning.
"They expect brands to get things right and will complain publicly if they don't," she adds. "I can only see this increasing and as a result the key to creating loyalty is to go above and beyond for your customers. "
The personal touch both in store and online will be where loyalty is won and lost.
Expert insight
Crispin Lowery, general manager of stores retail at Telefónica UK, on multichannel loyalty: "70% of customers go online to research handsets before even setting foot in store. That's why we are transforming O2 stores so that they mirror the online shopping experience. Giving our consumers this seamless online and offline journey really matters to them and impacts their loyalty towards us."
Anita Balchandani, head of retail at strategy consultants OC&C, on the future of loyalty:"Loyalty schemes will rapidly become the spine of businesses' marketing communications. All messages to customers will be under the umbrella of a loyalty mechanic that will be the vehicle through which offers, often personalised, will be extended to customers."
David Ciancio, managing director for customer strategy at Dunnhumby, on the use of data: "We see businesses losing their best customers at [a rate of] one every 10 seconds. When I hear retailers are ranking consumers on their profitability it troubles me. Profitability isn't the consumer's fault or responsibility. The future is about acknowledging that consumers have choices and accepting that."