It may only have been an application to the US Patent Office, but it is one that indicates Facebook has big plans to revolutionise ecommerce.
The social media giant is developing an AI-powered messaging service that would allow users to order from sellers and complete payments within its Messenger app, without having to visit a retailer's website.
The platform has allowed person-to-person payments via Messenger in the UK since 2017, having debuted it in the US in 2015. Take-up so far has been limited, mostly being used between friends sending small sums to each other.
But Facebook has long harboured ambitions to ramp up its ecommerce capabilities. With its vast data resources, infinite ability to connect users and global popularity – it had 2.19 billion monthly active users in the first quarter of this year – the real question might be: why is Facebook not better at selling us stuff?
Power of the bot
Facebook's patent explicitly places chatbots at the centre of any transactional activity. These use natural language processing (NLP) in user interactions, analysing our messages using AI. They interpret product requests, confirm our intention to buy, then trigger payment using stored card details.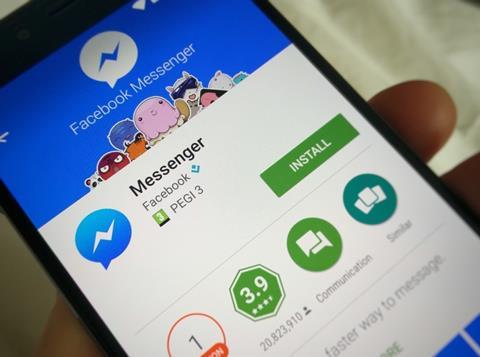 The important element in this is that the entire process occurs within the Facebook platform, meaning there is no need for users to log out and separately log in to PayPal or a retailer app. It is quick, easy to use and takes a matter of seconds.
In its patent application, Facebook uses ordering a latte from a coffee shop as an example of how it sees social commerce working. With 80 million small businesses active on the platform, it is hardly surprising it sees these as the most likely early adopters of its transactional method.
The advantages for small traders are obvious, but with retail chatbots becoming increasingly sophisticated and their use more commonplace, we will soon see the technology progress to a point where they can handle far more complex transactions than paying for a latte.
It may not happen overnight, but when it does, Facebook and platforms like it will become places retailers and brands can do serious business.
Social selling matters
Social commerce has long been held to have massive potential but has so far gained only minimal traction in the West. This is in stark contrast to Asia, where platforms like WeChat hold a huge share of the vast mobile payments market.
Last year, WeChat captured around 40% of the $15trn (£11.5trn) spent via mobile payments in China. That figure is only growing – something that must cause Facebook boss Mark Zuckerberg sleepless nights.
The problem is intrinsically cultural and linked to how digital life has developed in different geographies.
In the desktop-dominated West, social media and ecommerce evolved along separate paths, whereas in mobile-first China both arose simultaneously, meaning their integration was regarded as natural by the huge Asian consumer base.
The disconnect in the West is problematic for the likes of Facebook, but signs of change are emerging and these may help it achieve its dream of converting likes into lucre.
Facebook/We Are Social data for January 2018 revealed 95.1% of all users worldwide connect through Facebook's mobile app. In the UK, despite overall user growth rates slowing, almost 30 million people will use Facebook via their phone in 2020, according to eMarketer.
This mobile-user growth significantly improves Facebook's ability to have an impact in ecommerce. Sales will not come through its feeds, however. Where it can really exert influence on retail is by leveraging its leadership in messaging apps.
As well as operating Messenger, Facebook also owns WhatsApp. The most recent available data, published in April, puts the combined monthly active users of both apps at 2.8 billion, considerably ahead of the 1 billion regularly using WeChat.
Delivering on data
The big win for this solution is its ability to provide seamless transactions. This will be crucial to effective ecommerce in the coming years.
Online mobile consumers want easy and enjoyable shopping experiences – and both needs can be catered to using this method.
While any online or multichannel retailer can use chatbots as a sales driver, Facebook's dominance of the social media space gives it a unique advantage in positioning itself to lead such developments.
Some people might find this questionable, given the negative publicity surrounding the platform following the Cambridge Analytica scandal.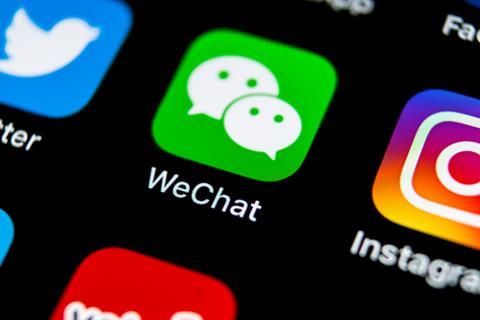 But anyone thinking Facebook has been seriously damaged by revelations over its data stewardship should note the April bulletin from marketing consultancy Kepios, which noted that Facebook's user base has grown by 3.2% since January – that's 67 million new Facebook members worldwide since the Cambridge Analytica story broke.
In the UK, 1 million new profiles were created in that time, taking the total active user base close to 45 million.
What this indicates is that data privacy concerns might not be as rife as media reports often suggest.
A 2016 Salesforce study showed 63% of millennial shoppers and 58% of generation X consumers would surrender personal data in return for personalised offers and discounts.
While it is unlikely social commerce will ever take off in the UK to quite the same extent it has in Asia, the omens suggest it will eventually become a force in the West.
Growth will be driven by new generations of shoppers – younger, mobile-first digital natives who no longer recognise a divide between enjoying social media and shopping.
An online environment where they can interact with friends, share recommendations and buy products with minimum fuss offers numerous opportunities for astute retailers and brands to engage with and convert this into sales.
Start thinking social
New rules will undoubtedly apply and must be learned quickly. But first-movers who grasp the nettle and allocate resources appropriately will be well placed to reap the considerable rewards on offer for those that master social commerce.
Whatever strategy is pursued, it should always be remembered that social media is an intimate space where trust is hard to establish – and even easier to lose.
Smaller may be more beautiful in this instance. While NLP and machine learning will help chatbots master more sophisticated interactions, the ability to smoothly handle the numerous and complex consumer queries a big multinational operator might generate 24/7 is likely to be a few years away.
Initially this method will be better suited to smaller specialist chains that already have strong social media interactions with their shoppers. This supposes a degree of trust and intimacy already exists.
For a retailer, working with Facebook means offers can be tailored and personalised to a greater degree than on other platforms. Timing an exclusive deal on swimwear is a lot easier if you already know your shopper is off to Magaluf in a week's time.
"Facebook selling, like on Amazon or any other external platform, will inevitably demand some data disclosure"
But caution is advised. Far better to initiate a conversation that leads to a sale than give your shopper the impression their online activity between friends and family is being monitored – even if it is.
This also raises another issue: retailers tend to be highly conscious about how much of their own data they share. But Facebook selling, like on Amazon or any other external platform, will inevitably demand some data disclosure.
One of the key benefits of social selling is immediacy. Retailers can see which lines are proving most popular, allowing them to adjust stock levels accordingly to meet demand and drive volumes.
Without reciprocal data sharing, this is impossible. Retailers will need to weigh up the potential positives against the possible negatives but allowing Facebook visibility on inventory in real time will undoubtedly boost sales.
Social commerce almost certainly has a future in the UK and whether or not it is Facebook that cracks the code, this type of retail will grow.
Retailers of every size should closely monitor developments in this space. It may not prove to be the future of retail, but it will certainly become a very important aspect of that future and should not be ignored.