Amazon is making a bid for a slice of the crafts market with the launch of Handmade at Amazon, which aims to take on rival marketplace Etsy.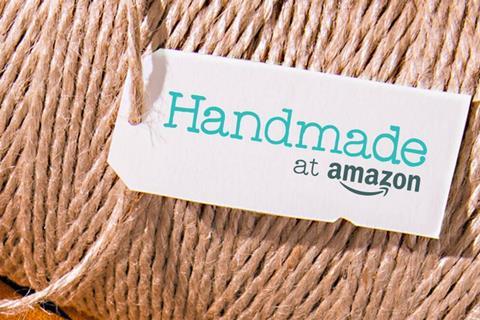 Handmade at Amazon, which launched on 8 October in the US within the main site, aims to combine Amazon's customer experience with handmade and bespoke products crafted and sold directly by artisans.
More than 600 handmade items were eligible for Prime next-day delivery from launch and more are being added.
"We have designed a custom shopping experience for customers looking for handmade items by bringing together many of the best artisans in the world, and they're adding thousands of items daily," said Peter Faricy, vice-president of Amazon Marketplace
Amazon says the store offers more than 80,000 factory-free items from around the world, 30% of which can be personalised for customers.
Handmade at Amazon is accessed through the Amazon homepage in the shop by department tab or by searching "handmade".
Suppliers have their own profile page which will identify their location and allow them to describe how the products are made.
Faricy said: "Knowing an item has a unique story behind it creates a personal experience that customers have told us makes owning handmade items special."
Brooklyn-based Etsy, which floated on the stock market in April, has nearly 1.5m million active sellers and 21.7 million active buyers. It reported sales of $61.4m (£39.4m) for the three months to June 30, a 44.4% increase driven by the growth of its marketplace and seller service.