Online property platform We Are Pop Up has launched a scheme that allows the general public to advertise spaces to let for retailers.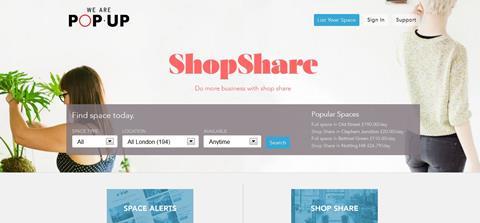 We Are Pop Up's crowdsourcing concept is called ShopShare and acts as an online marketplace where people can advertise available spaces to let for retailers and start-ups.
We Are Pop Up's chief executive Nicholas Russell said: "Our goal is to make finding retail space instant and easy to put control of retail shops back into the hands of people and local communities."
To date, We Are Pop Up has been used by over 1000 brands to source retail spaces, while the ShopShare initiative aims to make retail leasing more accessible to the general public.
Russell said: "ShopShare brings retail property letting to the public in a commercial sector that has up to now been dominated by professional estate agents and chartered surveyors".
The online platform was designed for users to advertise and find unique places to sell their products, with areas to let varying from empty kiosks to walls and railings.
For those letting, ShopShare offers a means to advertise and profit from unusual spaces and for start-up brands it provides an accessible platform to get their retail offer to market.
Russell added: "ShopShare provides everyone with the opportunity and tools to help retail brands find new locations and make a commission on the deals themselves, whilst using potentially vacant or underutilised shop space."