Waitrose has entered into a partnership to deliver a new real-time customer feedback system across its convenience stores.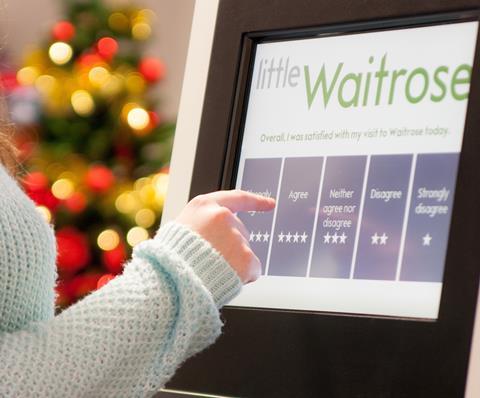 The grocer has signed a deal with research firm CRT and Toshiba to roll out kiosks located close to tills in all of its smaller-format stores, inviting customers to complete a touchscreen survey after completing their shopping.
The data, which will be collected by Toshiba's AnyPlace Kiosk technology, will be collected in stores and analysed using ViewPoint, CRT's customer experience platform. This data, based on a survey of four questions, will then be fed back to store managers in real-time.
The decision follows a pilot scheme carried out last year, which Waitrose said yielded 700 responses from customers per week.
Waitrose service innovation manager Richard Quarterman said: "As the survey is quick and easy to use we have significantly increased the number of customers responding to us. As it provides real-time feedback, we can start to track customer responses across different times of the day and days of the week, giving our operational management teams' valuable insight into store performance within a clear frame of reference."