Luxury shirt maker Thomas Pink has introduced an interactive table to its Heathrow store that allows shoppers to design their own shirts.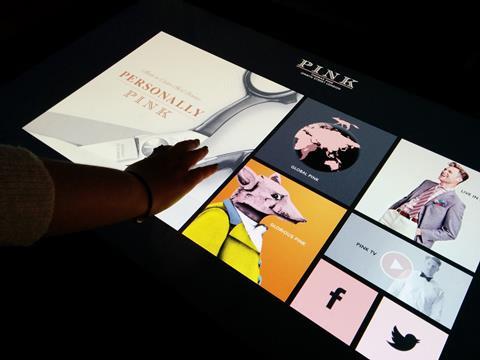 The interactive screen provides shoppers with access to Personally Pink, the retailer's made-to-order shirt service that allows them to choose the fabric, fit, collar and cuff styles of their shirt.
The table, in Heathrow Terminal 2, also plays brand videos on its Pink TV channel, and has access to the retailer's lookbook and map, store and weather information.
In addition store staff can access Thomas Pink's Facebook and Twitter feeds. The retailer worked with its technology partner Red Ant on the project.
Thomas Pink's head of ecommerce Chaten Uberoi said: "We have a long history of delivering the best-quality products with meticulous attention to the needs of our customers. Working with Red Ant to install the latest interactive technology in our new T2 store has allowed us to continue this tradition, with a clear focus on the customer as well as the future of our in-store operations."