Retailers could soon be using 'dynamic pricing' based on demand and time of day in the same way that airlines and hotels do, according to Kingfisher's Ian Cheshire.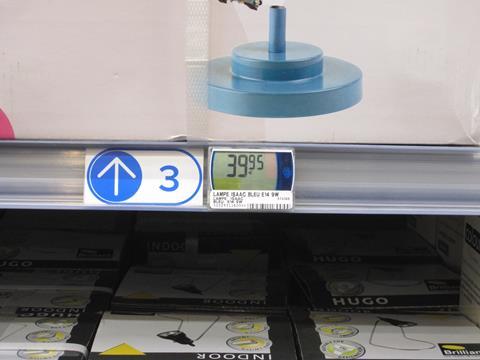 Kingfisher group chief executive Ian Cheshire said electronic shelf-edge pricing would allow the retailer to change prices across stores. Kingfisher's French business Castorama already uses electronic shelf-edge pricing (see picture) and Cheshire said he would bring it to B&Q in the UK.
In a store tour around Kingfisher-owned retailer Castorama in Dunkirk, France, Cheshire told Retail Week: "We'll see this in B&Q in the next generation of stores."
Cheshire sits on the board at hospitality company Whitbread, and said six years ago the company tended to offer just two prices for a hotel room. "Now there are something like 10,000," said Cheshire. "Dynamic pricing will become much more common [in retail]. People are used to it because of airlines."
He said electronic shelf-edge pricing meant that shops were consistently displaying up-to-the-minute accurate prices, and that store staff would save time on manually pricing goods. It also gives the retailer a "much greater focus on the visible price file", he said.
The prices are controlled by each store, allowing Castorama to install local pricing.
Cheshire also said retailers could soon offer shoppers personalised offers based on their preferences and their exact location in store.
He said near field communication chips in smartphones will enable retailers to identify shoppers in certain parts of the store and create special offers for them by sending a message to their device. Cheshire said Kingfisher had been "doing little behind-the-scenes tests" to see how easy it would be to launch such a mechanism.