A start-up in Colombia has launched a smartphone app that allows users to shop for groceries by swiping their fingers across a screen.
Tech firm Grability has developed Rappi in a bid to shake up the way people shop for food online and deliver goods to consumers within minutes.
The app lets shoppers swipe through images of supermarket shelves and touch images of each item they want to purchase.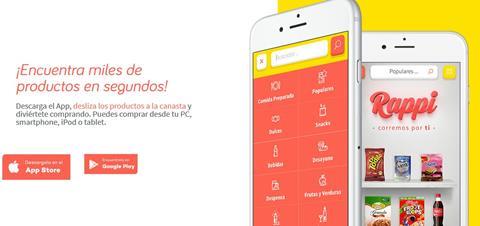 Grability, which has applied to patent the swiping process for buying groceries in the US, also takes care of the back-end of the platform, integrating the app within the IT systems of retailers.
It means that when a customer has placed their order via the app, a member of Rappi's delivery staff, known by the business as 'rappitenderos', selects the items from stores and delivers them to the user's home.
Rappi's website claims it can deliver products including cereals and medicine "in minutes" and fresh produce including fruit, vegetables, cheese and meat in "less than one hour."
It adds that it updates its inventory with new products and prices from a host of local shops "every two hours."
Uber model
Rappi does not own any of its own shops or warehouses and doesn't manage inventories of goods.
Its delivery staff are also self-employed and only earn money through delivery fees and tips – similar to the Uber model.
The app has been developed by three young entrepreneurs – Sebastian Mejia, Simon Borrero and Felipe Villamarin – none of whom have any previous experience in retail.
However the firm is already working with a host of major retailers, including Spain's El Corte Ingles and Cencosud in South America.
The app is currently only available in Mexico City and Bogota, but Grability is already eyeing a move into the US market.
Instacart, which already operates a similar online grocery service in America, is valued at around $2bn (£1.37bn). Around 3% of groceries are purchased online in the US.