Millions of consumers were unable to use Apple Pay following its UK launch, but retailers have been pleased with feedback on the service.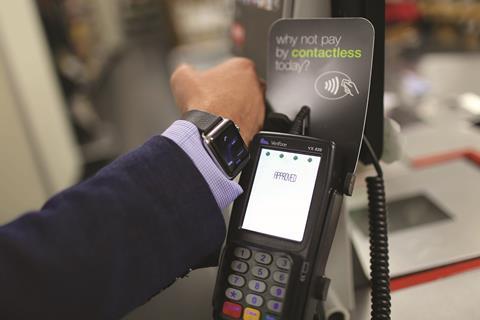 As the eagerly-awaited Apple Pay went live on Tuesday after months of anticipation, consumers with bank accounts at HSBC, First Direct, Barclays, Lloyds and Halifax could not take advantage of the contactless payment service.
HSBC and its subsidiary, First Direct, which have 16 million customers between them, failed to offer Apple Pay on its launch day – even though they had been named as launch partners by the US tech giant.
But despite the problems faced by shoppers, UK retailers welcomed the launch of the technology, which allows shoppers who own an iPhone 6 or Apple Watch to make in-store contactless payments in more than 250,000 shops.
Marks & Spencer, Waitrose, Boots, Lidl, New Look, JD Sports, Spar and Liberty are among the retailers signed up to the service for this week's launch.
Marks & Spencer head of technology for retail and digital stores Paul Airey said: "Marks & Spencer wanted to adopt Apple Pay because we are interested in innovations across the payments field to make life easier for our customers, quicker, more secure and simpler. Apple Pay was an obvious choice for us.
"Contactless is growing every month for us – over 3 million transactions each month are now contactless so we are hoping that Apple Pay will add to that number."
Excited customers
A spokeswoman for Boots, which has implemented the technology at more than 16,000 tills in its 2,511 UK stores, said: "We've been really pleased with customer feedback regarding Apple Pay.
"Customers have been excited to try the technology, and many have taken to social media to share their first purchases from Boots using Apple Pay."
MasterCard UK and Ireland president Mark Barnett said: "Innovation in UK payments means it's fast becoming the most advanced market in the world and the arrival of Apple Pay heralds this new era.
"We will see more change in the next five years than we've seen in the last 50, bringing even more convenience and security for consumers."
The service has initially been made available to MasterCard cardholders who bank with RBS, Natwest, MBNA, Santander and HSBC, although their customers were unable to use the service on Tuesday.
Apple Pay is also open to Visa cardholders who bank with RBS, MBNA, Nationwide and Santander, with customers from Lloyds, HSBC and TSB poised to be able to use the service in the coming months.