Marks & Spencer has today taken a step towards achieving its multichannel ambitions with the much-anticipated relaunch of its website.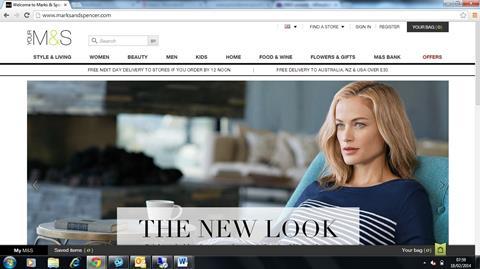 The retailer has moved off Amazon's platform and overhauled its online presence in order to better appeal to consumers and reflect changing browsing and shopping habits.
Marks & Spencer executive director of multichannel ecommerce Laura Wade-Gery told Retail Week: "I was determined we were going to make this the most customer-centric big company platform ever."
She said that the Amazon platform, which it has traded from for many years, had been designed from a pure-play perspective, but the needs of M&S – and its customers – were different.
The new site is designed to be much more visual than its predecessor. There is more editing and curation of the offer along with a distinct editorial tone of voice similar to a magazine. The site is easier for consumers to use.
Product photographs are used to greater effect and at much larger sizes, and customers can shop entire looks. "Clothing and footwear need to be a very visual experience," said Wade-Gery. "We need to cater for people who know what they want and for those looking for inspiration."
Style and celebrity features are prominent on the relaunched site, and are overseen by M&S.com editor Nicola Copping, a former Financial Times fashion journalist who has also worked for etailer My-Wardrobe.com and Harrods online. "We're making a big play of being a daily publisher from a style point of view," said Wade-Gery.
She said that there are 100 million visits per week to clothing and footwear shops in the UK.
Although there are 250 million to online retailers of those goods etail only accounts for approximately 15% of fashion sales, indicating the need for sites to inspire as well as function effectively.
M&S has 14.5m shoppers who purchase general merchandise in its stores but who do not buy from its website, even though they do shop online. "They are our big focus," said Wade-Gery.
The new site is expected to benefit M&S stores too, as shop staff make use of features such as 'shop the outfit' to advise customers.
An enhanced multichannel business, along with international growth, is at the heart of M&S chief executive Marc Bolland's strategy to build the business and the shift from the Amazon platform is seen as crucial.
In the third quarter, including Christmas, sales through M&S.com climbed 23%.