Luxury homeware etailer Houseology is working with crowdfunding platform Seedrs.com to allow members of the public to invest.
Houseology, where former Tesco boss Sir Terry Leahy is an executive board member, is seeking £1m investment through the crowdfunding process and plans to use the capital raised to improve digital technology and design tools, enhance its B2B retail proposition and drive international growth.
Other board members include John Lewis' former strategy director Jill Little and Best Buys' former chief information officer Bob Willett.
Investors will be able to commit any sum in Houseology starting from £10. In return, they will receive a proportion of the total equity share of 10.96% that the £1m investment will represent in the business. Investors will also be given access to a range of discounts on purchases.
Leahy said: "With the interiors sector dominated by mid to low-end players, there is significant room for the higher end in the market for a challenger brand like Houseology to grow.
"Our vision is to transform the homewares market in the same way Net-a-Porter did for fashion."
Formerly known as Occa Home, Houseology was founded in 2010 and has generated £8.9m worth of sales to date with a turnover of £3.7m in the last financial year.
Originally an interior design studio working primariy with hotels, Houseology founder Kate Mooney transformed the business an ecommerce website by offering the studio's designs to upmarket consumers and trade customers via a digital platform.
The etailer also offers more than 200 designer furniture and homeware brands through its website.
Houseology's customer base currently comprises of 75% retail customers but the crowdfunding investment is intended to extend the etailer's remit to small trade customers such as designers and architects.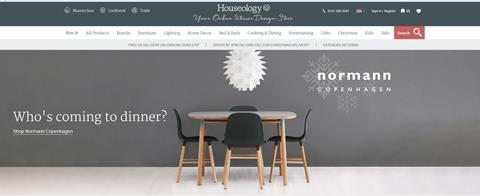 To date, Houseology has delivered a compound annual growth rate of 91% to existing investors over three years.