Online retailer Glasses Direct has introduced a virtual 3D fitting tool that shows shoppers how glasses would look on their face.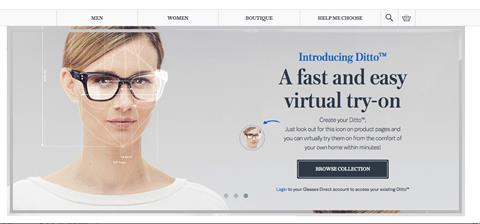 The Ditto tool records a short video of the customer's face using a webcam to create a '3D virtual self' so that they can experiment with more than 500 different frames on their virtual image.
Customers are shown a 180 degree view of how the glasses would look and fit on their face.
The Ditto technology identifies over 900 points on a human face to ensure an accurate representation of the face.
Glasses Direct says customers who have used it are five times more likely to buy and four times less likely to return their glasses.
The online retailer believes the technology will give it an edge over some of its high street rivals because it solves the problem of customers knowing what they look like in new frames because they are not wearing their prescription.
However, rival Specsavers is already making strides to solve this issue with in-store technology.
Its 'magic mirror' technology takes multiple photos of shoppers wearing frames, which they can then view later while wearing their prescription glasses.
Specsavers is testing the technology in its Brighton store and is expected to roll it out across its estate in the coming years.