The number of contactless transactions taking place in the UK has more than trebled since the £30 spending limit was introduced.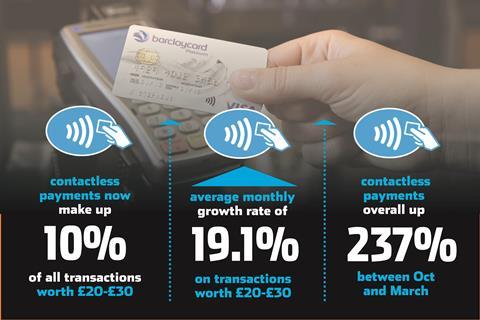 New research from Visa revealed that contactless payments rocketed 237% between October and March, following the introduction of the £30 limit last September.
Prior to that, shoppers were only able to use contactless for payments up to £20.
Visa said that transactions between £20 and £30 grew at more than double the rate of those under £20 during the last six months, as the increased limit had a "transformative effect" on consumer spending habits in the UK.
Contactless transactions over £20 grew at an average of 19.1% per month from October to March, compared to an 8% uplift in the number of payments under £20.
Supermarkets, where the average basket size is £25, were among the retailers to benefit most, Visa's research showed.
The data revealed that grocers reported a 100% increase in contactless transactions during the last six months, compared to the six-month period before the £30 limit was introduced.
Visa added that contactless payments in the £20 to £30 range now account for 10% of all face-to-face transactions of that value across the country.
Overall, Visa reported 36 million contactless transactions over £20 since last October, amounting to almost £900m in consumer spending.
Kevin Jenkins, Visa Europe's managing director for UK & Ireland, said: "The trajectory for contactless payments continues to look very strong.
"Increasing the spending limit to £30 has clearly encouraged consumer adoption and retailer opportunity across Britain – families are now able to do their weekly supermarket shop and pay contactless.
"The increase has driven a demonstrable shift in consumer behaviour."
The research was unveiled just days after Waitrose revealed plans to open its first cashless branch.
The upmarket grocer said the store, which will be the second smallest in its estate at 1,400 sq ft, will open this summer at Sky's new office in Osterley.
Shoppers will only be able to pay for goods at five self-service checkouts, using their cards or a mobile payment app.