Hard times on the high street have been thrown into stark relief in the wake of news that Boots may close as many as 200 stores, while a CVA at Arcadia will result in about 50 closures.
However, as famous names including Marks & Spencer and Debenhams reduce their big store counts, independent retailers continue to open stores and are playing an important part in keeping town centres vibrant both for themselves and the multiples they trade alongside.
Like the high street giants, new technology is playing an increasingly important part in the success of indies, which are increasingly being catered for by some of the biggest digital names as well as start-ups.
Amazon is opening 10 'Clicks and Mortar' pop-up stores, designed to showcase the products of around 100 of its small sellers. The logic is easy to understand – last year, 58% of Amazon's global sales came from third-party sellers, up from only 3% in 2000.
"Three-quarters of shoppers would rather buy locally than online if they know the items they want are available in-store"

Nick Brackenbury, NearSt
In the same way that small retailers have collectively become important business partners for Amazon, they are the focus of other digital businesses such as NearSt, a tech start-up working with Google to provide shoppers with live inventory data for stores close to them, with a mission to help ensure healthy high streets.
Research conducted for NearSt suggests new technology could boost high street sales.
The study, conducted by innovation consultancy the Future Laboratory, raises the prospect of how real-time availability data might be deployed in future to draw customers to high street shops.
Uber delivers your shopping
It is easy to imagine Uber, for instance, using such data to enable drivers to shop on customers' behalf. Along with a takeaway dinner, Uber might deliver a bestseller picked up from a local bookshop.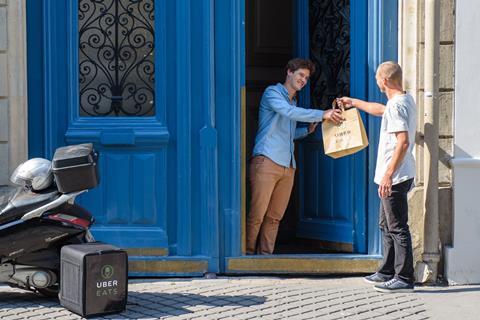 Consumers' use of social media such as Instagram also brings opportunity. "Augmenting these channels with real-time local inventory data could mean that instead of just being able to order an outfit you spotted online, Instagram would also show in real time which shops in your local area stocked the items too, so you could pop in and try them on to buy there and then," the report says.
Retailers could use live search data to analyse what local shoppers are likely to want.
NearSt co-founder Nick Brackenbury says: "The news that Boots could be closing 200 stores shows how important it is for high street shops to embrace new technologies aimed at driving footfall into physical stores.
"Three-quarters of shoppers would rather buy locally than online if they know the items they want are available in-store, so it is vital that shops ensure the products on their shelves can be found in just a couple taps of a nearby customer's smartphone."
Changes in-store
Industry adviser Eva Pascoe from The Retail Practice, who was Topshop's first director of ecommerce and worked with Bill Grimsey on his high street review, also believes new technology can help sustain the performance of the myriad smaller retailers that ensure high street success.
She envisages changes to space use, for instance, facilitated by the opportunities it brings.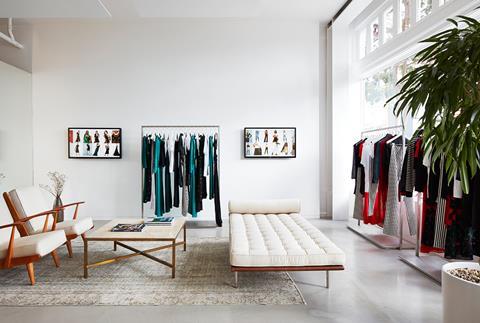 Pascoe says: "We have to work out how to use smaller places but get volume. People will be trading from smaller frontages with bigger back ends."
She points to the example of fashion retailer Reformation's 3,500 sq ft 'tech-enabled' store on Bond Street, New York.
A selection of clothing is displayed but customers primarily use touchscreens on the walls to browse – like using a website – then have items delivered to a dedicated changing room. From there they can also order different sizes or alternative styles.
The combination of tightly curated stock on the floor and technology means the store is "very inviting and sparse, so it feels airy with beautiful changing rooms. I could see it working for anything where size is a challenge," says Pascoe.
The Greenhaus effect
Technology is creating new ways for smaller businesses to approach space too. Pascoe uses the example of Greenhaus, a business she has worked with.
Greenhaus says it enables direct-to-consumer brands to use "brick-and-mortar locations flexibly as showrooms to complement their online sales channels, without the need to store inventory" and to integrate with services such as data analytics, and rapid fulfilment.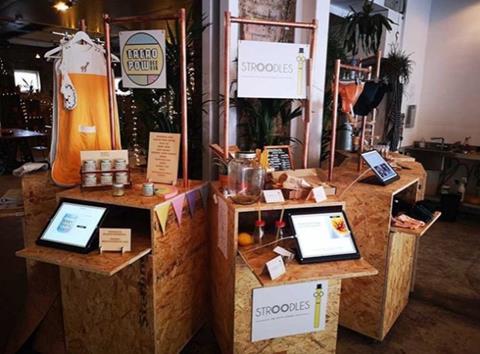 Pascoe describes Greenhaus' showroom in Shoreditch, London as "granularised" retail space. "It's almost like Uber for space," she says. "They're taking space and cutting it as small as needed."
She also thinks that there are opportunities to improve the distribution of small brands through big retailers – giving the latter access to more exclusive brands – as a result of lower-cost electronic data interchange, which automates supply chain processes.
"It has been harder for smaller retailers [to deploy], but now the price has come down. Department stores can now source from really tiny companies. It's come down in price and it's easy to use, just plug and play," Pascoe says.
Consultant Graham Soult, founder of CannyInsights, which advises many independent retailers, thinks new technology can benefit the high street but is wary of overstating it.
Soult, whose projects include a landlord and local authority-funded programme to promote the town centre of Chester-le-Street, County Durham, observes: "A lot of technology companies trumpet solutions, but sometimes it's questionable whether they know what the problem is.
"It's rare that you see the things that are talked about on the customer side, like smart mirrors and all that.
"I look at it from a high street perspective first and technology afterwards, and I come across lots of businesses that haven't even got a clue how to get on Google Maps or have their up-to-date details on Google My Business."
He believes back-end rather than customer-facing technology can make the greatest difference to shoppers and gives the example of Decathlon, which in the US has deployed a robot to oversee in-store inventory, using technology such as computer vision and RFID.
He explains: "If people are going to a shop, they're going to experience what you can't get online and part of that is the people and quality of service. I tend to be interested in what frees people on the shop floor to be human."
If technology can enable independent retailers to grow and sustain high streets, then multiple retailers can benefit from their success too.
Tech. 2019
How retailers are using location intelligence science and data to steer their brick and mortar strategy is one of the subjects being discussed at Tech. this year.