Technology is changing how customer insight is gathered. Matthew Valentine looks at five recent examples of retailers' responses.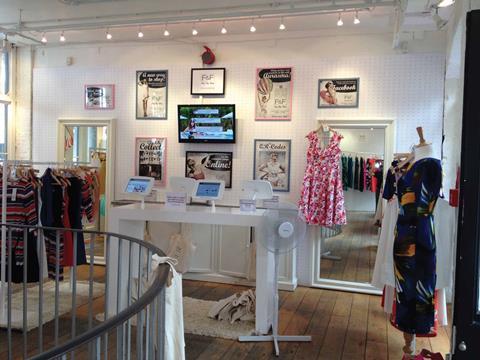 Customer loyalty is diminishing, shopper habits are changing and expectations are high, meaning gathering customer insight has never been more important.
There are several ways to approach it and instant feedback, quick turnaround of information and big data mean retailers can learn a lot more about their customers.
1. Tesco: using mobile
One recent example of insight gathering involved Tesco using mobile devices to record customer feedback, working with market research company Marketing Sciences on a number of projects. One involved the research firm visiting 950 branches to conduct a customer service questionnaire with more than 1 million customers.
Answers were recorded on Android tablets rather than on paper, giving instant results and reducing the use of paper and post.
When Tesco opened a pop-up shop in London's Covent Garden for a single weekend last year to highlight the extended F&F fashion range available online, it used Marketing Sciences to conduct interviews with as many shoppers as possible to gather feedback. The store only contained enough stock for customers to try items on, and orders for home delivery were taken by assistants or placed directly via mobile phone by scanning a QR code.
The research gave insight into how customers perceived the brand, its products and the pop-up store offering home delivery only. Using tablet computers for the interviews allowed all of the results to be given to Tesco the day after the pop-up store closed. Researchers were also able to take photographs or conduct video interviews as they carried out the survey. "We could trust them to deliver the research within a short time frame, but providing us with the insight we needed," says F&F brand manager Emma Scott.
"One of the key things for retailers is capturing this moment of truth. It's about making sure you are capturing that feedback in the channel, whether it be in store, online or mobile, at the time of customers experiencing it," says Marketing Sciences director Ian Ralph. "There are situations where you want a more considered response, but when you want to get instant feedback on how a particular event made people feel, this is ideal."
2. Game: receipt surveys
Computer games specialist Game takes the traditional route of asking customers what they think of its stores, products and services, but it uses the latest technology to analyse feedback participation and then responds to it, in real time if necessary.
The retailer's 'How's our Game?' programme, run by insight specialist SMG, uses a prompt on receipts and point of sale material to encourage customers to visit a website to leave feedback. A competition to win vouchers acts as an incentive, and may explain why more than 100,000 Game customers have participated in the project over the last year. "We are getting approximately 30 responses per store, per month, which makes the answers statistically valid," says SMG managing director Jeremy Michael. "It's about understanding how they can improve customer retention, increase customer spend and improve customer advocacy, all linked towards sales improvement."
As well as collecting information on why customers visit Game shops, what they think of them and which rival stores they might use, along with relevant personal demographic data, the system allows store managers to benefit from real-time feedback. This enables them to pinpoint issues with staffing or customer service quickly and effectively. Area managers or customer services teams can be alerted via a mobile app if a customer has a problem that cannot be solved in the store.
"We've seen improved response levels to customer feedback and this has already helped to shape our Christmas plans," says Game reward and insight director Fred Prego. "This consumer insight is key to tailoring and improving everything from our product range to the customer shopping experience, and is one of our key points of
difference as the UK's number-one specialist."
3. Iceland: loyalty cards
Iceland's Bonus Card had been running for five years when the grocer began working with Omnico and its Omni-Engagement software in September 2012. The objective was to improve customer engagement while reducing costs.
The software allows shopper data to be collected and analysed quickly, and offers coupons to customers at the checkout, increasing redemption rates and reducing costs.
It gives Iceland insights into spending patterns by product, location and time, calculates the value of customers and can track the top 10% to 20% of customers who generate 80% of profits. It can also measure the response to individual promotions, and it means Iceland no longer needs to send out coupons by post.
Iceland head of customer insight Lyndsey Swann says: "More of the available budget has been released thanks to a reduction in the use of direct mail, which means we can lower the threshold for coupon qualification. That means we are able to reward more customers more often.
"The new system is more flexible, which increases customer satisfaction."
Iceland's shopper satisfaction rating has jumped from 65% before the new Omnico partnership to 85% today.
4. Spartan Stores: data
Spartan Stores, a US grocery retailer and wholesaler based in Michigan, recently signed a deal with loyalty management group Aimia to harvest more effective insight from its 'Yes' rewards card scheme.
The project will mean customer data from Spartan stores can be shared with the company's wholesale customers as well as in-house, as it works to extend its customer-focused strategy across a wider marketplace. Shopper data is used to better target rewards at customers, as well as improve the effectiveness of marketing spend.
"We have an engaged customer base and are determined to provide them with the best possible shopping experience," says Spartan Stores vice-president of centre store merchandising Larry Pierce.
Customer insight is one of several areas in retail where technology has prompted evolution. And, as these retailers show, a creative approach that encompasses different channels can glean plenty of insight - and in most cases it is more in-depth and meaningful than previous incarnations.
5. Online focus groups
Focus groups are sometimes criticised for creating an artificial environment that does not relate to real shopper behaviour, but a sample of customers - or potential customers - can provide valuable insight on a broad range of issues. And, crucially, retailers no longer have to rely on a group of people sitting around a table with tea and biscuits.
Online panels can be useful for testing the water before committing resources to a project, or in gauging reactions to issues such as the horse meat scandal, and can give results in a matter of hours.
Vacuum cleaner retailer Vax uses the Quick Survey system from research group Toluna to provide rapid customer insight on design or marketing decisions. Vax head of PR and research Jo Little says online panels are helpful: "What they give me is an invaluable data set that I can bring back to the business. It gives you quantified evidence…usually in our case we have got the decision right, but it's about really fast, cost-effective reassurance that you have gone down the right route."