Amazon has launched Dash Replenishment connected devices in the US that monitor stock levels and order goods remotely for shoppers.
The etail giant's new technology enables a selection of white goods to self-monitor stock levels and automatically replenish physical goods by ordering them from Amazon when supplies are running low.
Devices on offer include a printer from Brother that monitors levels of toner and ink, and a General Electric washing machine with a built-in detergent dispenser.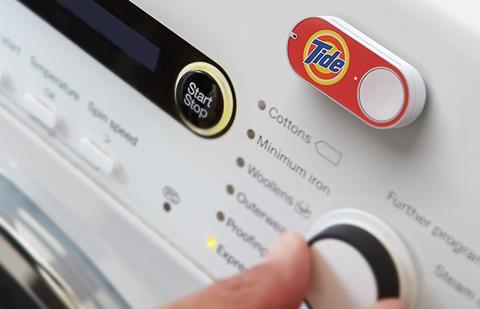 Customers who already own compatible versions of the connected printer can start using Amazon's service immediately, while Dash capabilities will be available on General Electric's compatible washing machines by the end of the month.
Amazon devices director Daniel Rausch said: "With Amazon Dash Replenishment, we want to make customers' lives even easier so they won't run out of items like laundry detergent, pet food or printer ink again – customers simply activate Dash Replenishment when they are setting up their connected device and then rely on Amazon to automatically deliver those everyday essentials."
Amazon has previously had a Dash button on various home devices that shoppers can press to order products. The etailer's latest innovation removes shoppers from from the ordering process entirely, as smart devices self-monitor product levels and order replacements automatically when necessary.
Amazon will be adding a raft of other connected devices to its Dash Replenishment service in the coming months including products from Samsung, Brita and Purell.