Amazon has unveiled its first branded cargo plane, one of 40 jets, which will give it greater control of its supply chain across the US.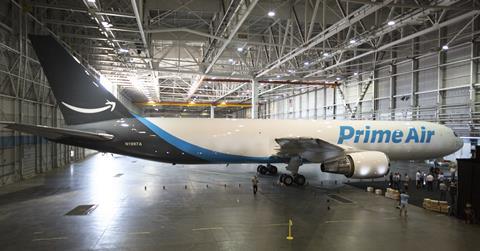 Amazon One, its first branded "Prime Air" craft, was unveiled on Friday at the annual Seafair Air Show in Seattle.
A total of 40 Boeing jets have been leased from Atlas Air Worldwide Holdings and Air Transport Services Group. Out of these, 11 are already delivering packages for Amazon's Prime loyalty programme, offering free two-day shipping.
Amazon may also benefit from leasing its services to other retailers. Analysts have suggested Amazon could deliver on behalf of other companies, piling pressure on existing fulfilment firms and cargo carriers, already feeling the strain as the growth in online shopping soars across the globe.
It had been reported that Amazon was considering buying loss-making German airport Hahn, but the reports were later dismissed by the airport.