PAID FOR POST
The Hermes Supply Chain Blog on Retail Week
Almost two thirds of shoppers have returned women's clothing in the past six months, new stats revealed this week.
So-called 'serial returners' are taking advantage of the free delivery and returns offered by etailers to order in bulk with the intention of sending much of it back.
Now, dear reader, I have something to admit. My name is Gemma and I am a serial returner. There, I've got it off my chest – that feels better.
But should I feel embarrassed about my excessive returns? Aren't returns a natural part of online shopping? My bedroom is my fitting room when I shop online. Just like I would do in store, I scoop up an armful of clothes in that fitting room, knowing some won't fit, some I won't like and some I just can't pull off.
Serial returner or shopaholic?
Many, most notably my bank manager, don't call me a serial returner. He prefers the label shopaholic. For I might return more ill-fitting playsuits and garish bomber jackets (what was I thinking?) than the average shopper, but I most definitely spend more.
And I choose to spend with retailers that indulge my serial returning ways. That means providing lots of potential places I can drop off my parcels – be it my local newsagent, the train station I commute from or the supermarket I shop in – speedy processing of my returned items and, most importantly, it needs to be free.
Of course, there are some things retailers can do to potentially cut down the amount I return. Sizing charts, whizzy virtual fitting room apps and customer reviews may give me a better idea of size and fit, while slick imagery and zoom functions can give me a better idea of colour and material. However, I'm still going to buy more than I intend to keep; just like I take more clothes into the changing room than I intend to buy.
Retailers that accept this and provide hassle-free delivery and returns will gain my loyalty and custom, much to the ire of my bank manager.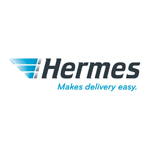 Hermes' vision is to be the carrier of choice for every end customer in the UK. The company currently delivers parcels on behalf of 80% of the country's top retailers and etailers.