Large destination shops on the agenda for cycles etailer following £180m deal.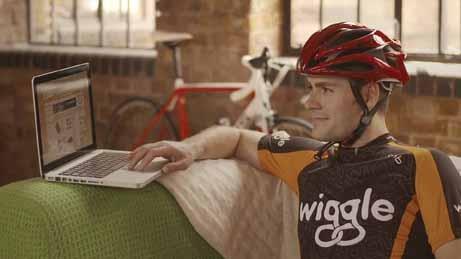 Cycles etailer Wiggle is to push the button on store openings and company and brand acquisitions after being acquired by private equity firm Bridgepoint in a £180m deal this week.
Wiggle, which sells bikes as well as cycling and triathlon gear online, is embarking on a new growth strategy that will include opening its first shops in the next 12 to 18 months as it pushes its multichannel offer.
Wiggle chief executive Humphrey Cobbold, who will remain running the business, said: "We'll have a focused programme of store openings – large-scale destination stores, rather than high street.
"They will be the best cycling and triathlon stores in the country." Retail Week revealed in October that Wiggle was mulling store openings.
Cobbold said that under new ownership Wiggle, which is chaired by former Asda boss Andy Bond, would eye opportunities to expand by acquiring rivals and brands, including etailers "either domestically or internationally".
Cobbold said the Bridgepoint deal was "great for the business".
"Bridgepoint is backing the management plan to continue to develop the business," he said, adding that there would be "lots more investment in domestic and overseas markets".
At present Wiggle operates in about 70 countries. Overseas business accounts for 60% of turnover and that is expected to grow.
In recent weeks it has launched websites in Russia and China, and Cobbold believes there is great opportunity in the latter. He said sales in China have been motoring since launch.
Wiggle is opening its third warehouse in the new year to fuel expansion. The global cycling market is estimated to have been worth £25bn last year.
Cobbold said that under Bridgepoint Wiggle would "significantly increase investment in supporting brands and suppliers", creating shop-in-shops online for brands such as Asics.
He also said Wiggle would continue to invest in its mobile channel as well as service and functionality.
The etailer's former owner Isis had been running a dual-track process whereby it was considering a float as well as a sale. However, market conditions made an IPO difficult and Cobbold said the "pedigree of Bridgepoint" made it a "relatively straightforward decision".
Wiggle could still consider a float in the future, he said.
Bridgepoint beat off competition from several private equity firms. Bridgepoint partner Vince Gwilliam said: "Wiggle is benefiting from strong structural market drivers such as the shift to online retailing combined with the trend towards fitness and the increasing popularity of cycling as a pastime. In addition, it has had a strong track record of profitable organic growth."
In the year to January 31, EBITDA climbed from £7.5m to £10.5m.
Buy Multichannel Now. Retail Week's exclusive report reveals what UK retailers really think of multichannel, and how they'll act on it in 2012.