Waitrose is trialling a series of initiatives at its first smaller convenience store, in Cambridge, which it will roll out if successful.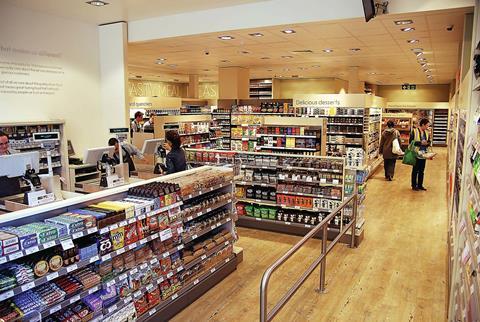 The 3,000 sq ft store on Fitzroy Street - which opened last Thursday - is trialling new signage, advice and tip cards on the shelves, tear-off recipe cards and lower checkouts.
Head of convenience Anthony Wysome said: "We have learnt a lot from opening our larger convenience stores and many of the elements we're trialling in Cambridge will be used elsewhere at our smaller and larger convenience shops if we find they work well with customers."
The new signage uses phrases such as 'the cheese board', 'the choicest cuts' and 'supper starts here' instead of traditional supermarket signs such as 'dairy' or 'poultry'. "We deliberately made the signage different to a traditional supermarket as we did not want customers to think this offered everything a large supermarket does," said Wysome. "The signage is more conversational but still guides shoppers around the store."
Advice cards sit among the products, guiding customers on how to cook certain items, such as meats. The tear-off recipe cards also sit among the products for easy-to-make dishes such as parmesan crusted pork steaks. The recipes will be rotated and more produced if shoppers like them, said Wysome.
The lower checkouts are being trialled to encourage interaction between customers and staff, said Wysome. He added: "One of the reasons customers come to us is for our high levels of customer service and with a convenience store there aren't many areas where shoppers can interact with colleagues. The main one is the checkouts, so we dropped the counters to make it more department store like."
Wysome said three further smaller convenience shops will open this year in the trial. Its sixth larger convenience store - between 5,000 sq ft and 7,000 sq ft - will open in Cheam, Surrey, next month and it will have 10 by the end of the year.