Wander around Spitalfields in east London and you could be forgiven for thinking that you're in a branch of Urban Outfitters: all is tastefully decayed and generally expensive.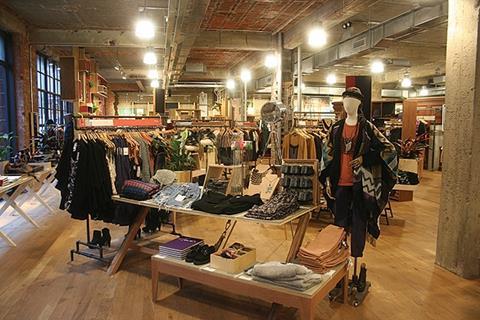 Given this state of affairs, what is surprising is that Urban Outfitters has only just decided that this is an appropriate location for one of its artfully derelict interiors. This store opened in December and although it is a single floor and smaller than visitors to the central London stores will be used to, it looks and feels bang on brand for this part of the capital.
And, like all of the retailer's other stores, it has a number of features that are unique to the space, with the opaque Georgian glass cages, suspended above the cash desk and filled with light bulbs, being probably foremost among them. Mention might also be made of the flock deer, apparently leaping though the wall above the lift and the vintage sofas in the mid-shop.
The odd thing about this and almost every other Urban Outfitters store is the manner in which a building's interior has been distressed, with broken concrete, aged metal joists and recycled wood being in evidence throughout. This is much like many of the retail units in the area, except that in the majority of cases the buildings were like this to start with. It's a bit like taking perfectly good denim and then knocking four kinds of hell out of the fabric in order that you can charge more for it.
Nonetheless, it's good to see that this US retailer has at last arrived in what has to be a candidate for its UK spiritual home.