Supermarket chain Rewe recently opened four trial branches, expanding on its new minimalist modular fittings and changing the aesthetics of traditional food markets.
With a string of supermarkets across Germany, supermarket chain Rewe has been busy opening four 2,000 sq m trial branches across Germany that are intended to function as 'regional neighbourhood markets'.
The retailer emphasises freshness, convenience, and locally-sourced products.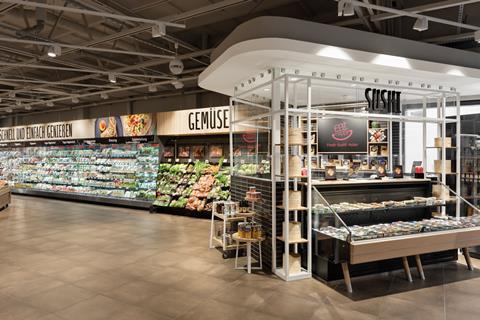 Designed by Zurich-based Interstore, the entrances to the new trial branches are easy to navigate.
Beyond this, the fresh interiors are emphasised by sushi, salad bars and 'snack stations'.
Lingering is encouraged, and the market deli restaurants emphasise this.
Wood, white-coated steel and coloured ceramic tiles complete the picture, with equipment designed modularly, allowing for alternative store interiors to be readily available.
Worth noting is the importance private label products are given – an increasingly central part of the retailers' efforts.
These stores across Germany may not be traditional food markets, but they are certainly evocative of them.