Paperchase's Bromley branch has capitalised on its unused second floor with an in-store design that introduces theatre to the retail experience.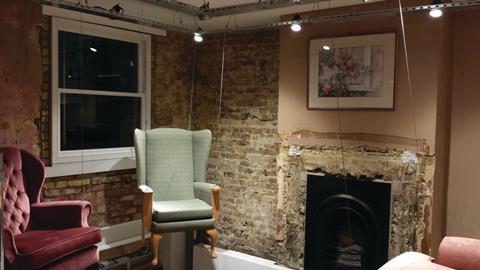 Imagine taking possession of a shop unit and knowing that there's a floor upstairs that you're not going to use and which has been locked up for years. That was the situation that confronted Paperchase when it signed on the dotted line for its latest shop in Bromley.
Working with design consultancy Made In Place, it took a look upstairs and discovered a time capsule – a little piece of mid-century interior decor that appeared to have been preserved in aspic. The decision was taken to remove the ceiling of the shop – the floor of the room above – creating space and giving a sense of movement to the interior.
What makes it highly unusual is that the fixtures and fittings of the room above have been kept in place, suspended by wires to create a wholly complete domestic interior with just one detail absent: the floor.
Steve Wright, senior designer at Made In Place, says: "Bromley is the latest in a number of deconstructed stores that we have produced for Paperchase. We are always keen to try and introduce some theatre into the retail experience and this presented itself as a good opportunity."
While it is straightforward to understand Wright's notion of deconstruction, there is a broad feel of the surreal about the store. Even the creaky-looking wooden staircase from the floor above has the look of an early Harry Potter film and shoppers might expect it to begin moving at any moment.
It also has the benefit of setting the store apart from any other in Bromley – or anywhere else for that matter.
If good retail is about creating difference, then this has to be one of the best new stores to open its doors lately.