The new 'three-in-one' Currys PC World Carphone Warehouse format is a mixed-brand affair, and the Hedge End branch demonstrates that it works.
With the best will in the world it has often been difficult to make a large space interesting.
"The new format is a destination – somewhere shoppers will drive to in order to benefit from a one-stop shop for tech products"

John Ryan
It's a dilemma that dogs big entertainment venues and trade shows, and a challenge that the grocers regularly contend with at their edge-of-town superstores. But shops of this scale are less common in other sectors.
So what exactly can be done to make a single-floor electricals shop with a 40,000 sq ft footprint worth wandering around?
A brisk and entertaining trot around the Currys PC World Carphone Warehouse store in Hedge End, Southampton, led by chief executive Seb James, shows what can be achieved.
Combined strength
At 40,000 sq ft the shop is big enough to qualify for a 'megastore' tag and is a good iteration of the new 'three-in-one' format – featuring all three of the retailer's brands under one roof – that will to be introduced across the Currys PC World estate following the merger in late 2014 of Dixons and Carphone Warehouse.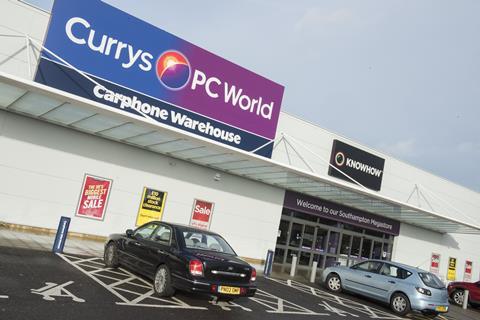 In Hedge End James walks out into the wet car park that fronts the store to show off the logo. "It's a bit of a mouthful, but we're proud of it," he says, pointing to a sign that shouts Currys PC World Carphone Warehouse in a variety of fonts and colours.
Here are three very well-known brands that might not be yoked together automatically by shoppers, but the sign dispels any doubts while maintaining the individual identity of each retailer.
From the outside, there is not much else different about this store – it looks like a fairly typical large edge-of-town box.
Heading indoors, the first thing that greets the shopper is Carphone Warehouse. "It's right at the front. We're not known for phones, so it's right in your face," says James.
At less than 1,000 sq ft, The Carphone Warehouse area is a relatively modest space, and being positioned at the front ensures that it doesn't get lost within the larger context of the store.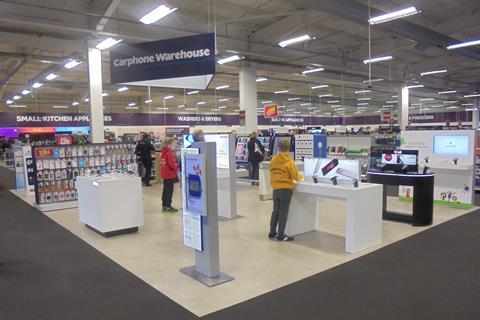 Practically, the shop-in-shop is signposted by a branded mat with a Carphone Warehouse beacon overhead and a smattering of white mid-shop tables and plinths.
As in much of the rest of the store, animated displays feature strongly, helping to differentiate the various phone brands that are on offer.
Tech brand testing ground
Beyond this, the mood changes in the second part of the three-in-one proposition – PC World.
James says that in terms of space division the store has a 60/40 split between PC World and Currys (which does indeed not leave much for Carphone, but the products are small) with a "roughly" 65/35 division of turnover between the two.
The front of the PC World part of the equation is devoted to Fitbit technology – wristbands that monitor how much exercise a user is taking. In a jovial moment James says that he uses his on a daily basis.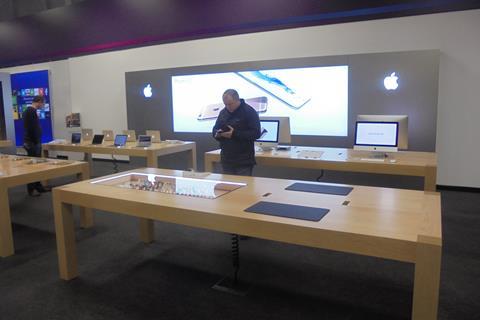 The Fitbit space is small beer however when set against the Apple shop-in-shop behind it.
For all the world this looks like a scaled-down version of a standalone Apple store with the usual wooden tables bearing sleek silver products and a perimeter wall light box that shows iPhones tumbling in the digital ether.
PC World offered to manufacture the tables for the tech giant, but Apple stuck to its guns and made them itself.
This is not the case in the Microsoft area that follows immediately after the Apple shop. The most noticeable feature here is a removable printed screen through which light can be shone on the perimeter. It stands in contrast to the screens with moving images that are an expensive part of the recently opened Microsoft flagship on New York's Fifth Avenue.
This is the core computing part of the shop and James says that "about 40% of the turnover will be from computing".
"One of the ways we can be useful for global brands is to act as a lab for them. It allows us to punch above our weight. We recognise we're a small North European retailer and this works for us"

Seb James, Dixons Carphone
Unlike Apple, some of the dark-wood mid-shop equipment used by Microsoft in this store has been created for the purpose by Currys PC World Carphone Warehouse.
"One of the ways we can be useful for global brands is to act as a lab for them. It allows us to punch above our weight. We recognise we're a small North European retailer and this works for us."
James' modesty notwithstanding, it is interesting that three-in-one stores may be used in this manner to generate goodwill and a positive relationship between tech brand and retailer.
Evolved offer
Drones and Go Pro equipment are amusingly displayed in the mid-shop with a mannequin equipped with a camera scaling a rock in one area, while overhead a skateboarding figure films his mid-air activities.
The back of the PC World area is focused on TV and is similar to many other Currys PC World branches except that the emphasis has shifted as far as branding is concerned.
In previous iterations supplier branding has been deployed and scaled to its surroundings using each's individual font, colours and suchlike.
This has been avoided in the Southampton store, where all brand names are depicted on the rear perimeter wall in white light to highlight the font of each manufacturer.
And so to Currys. Again, much of what is on view will be familiar to those who have visited a Currys PC World edge-of-town emporium. But it is worth noting that the wall of washing machines has been pared back and made a little less dominant.
There is also a Nespresso concession and a Dyson space.
Worth noting too is the small perimeter module with bar stools in front of it which is home to three tablets.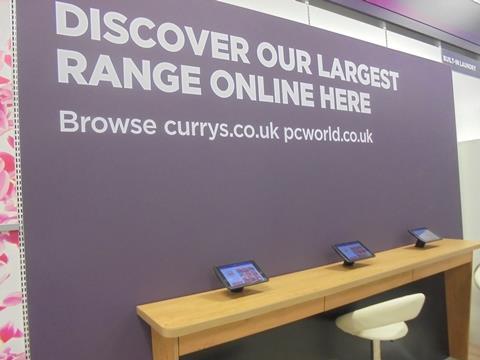 This is the 'browse the internet' part of the store, and has a low-key feel. James makes the point that shoppers rarely come to a shop to sit in front of a screen and that what is on view is part of an "assisted shop".
This is a departure from what might have been done in the past, when screens from which items could be purchased in store were viewed almost as an end in themselves.
The physical-digital store continues to evolve and mature.
Retail destination
A three-in-one store then has much in common with a two-in-one Currys PC World, with the addition of Carphone Warehouse at the front.
Small tweaks have been made to the store format overall and this is now the template that will be scaled down (for the most part) so that it can be made to work in other branches across the portfolio.
Even more than before it has the benefit of being a destination – somewhere that shoppers really will drive to in order to benefit from a one-stop shop for tech products, white goods and small consumer electronics.
This is about 'owning' a sector, inasmuch as that is possible – and it looks powerful.
Currys PC World Carphone Warehouse, Southampton
Size 40,000 sq ft
Status A three-in-one store holding all of the company's brands
Design In-house
Ambience Edge-of-town
Reason for visiting A three-in-one stop shop