From a visual merchandising perspective, the conventional way to display lingerie is to put bra and matching panties on a headless mannequin or, in extremis, just to have a bust wearing the bra.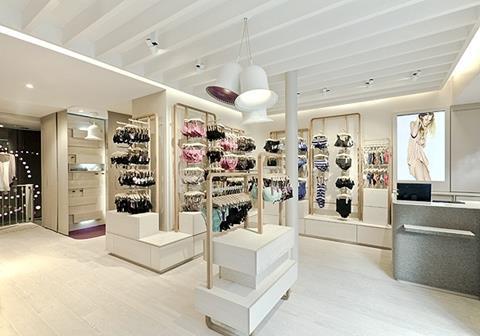 It is abnormal to try to display lingerie without some kind of shape or body-form, yet that is what has been done in the window of the Princesse Tam Tam flagship in Paris.
Princesse Tam Tam is owned by Japan's Fast Retailing, which bought the French brand in the middle of the last decade and this store, in Paris' St Germain district, challenges the normal way of selling 'foundationwear'.
And as well as glass niches in the store frontage, across which pieces of lingerie are stretched, there are TV monitors that have been integrated into the glassline and that play catwalk shows, giving an idea of the how the product could look if you had a perfect body and ate very little indeed.
Within, there is also a singular absence of any kind of mannequin or body form and instead Uxus - the Amsterdam-based design consultancy that worked on the project - has opted to use plain wooden frames rising from white plinths around the perimeter and in the mid-shop to act as display features and rails for the forward-hung stock. The rest of the shop is white with grey being the colour used for the cash counter.
All in all, this breaks most of the rules about how you display lingerie and yet it works and, in spite of the overarching use of white, it manages to avoid any sense of the clinical or antiseptic. The store opened at the beginning of this month and it will be interesting to see if the format is rolled out.