Fashion giant Next sees potential to open a raft of stores designed to transform the image of out-of-town shopping.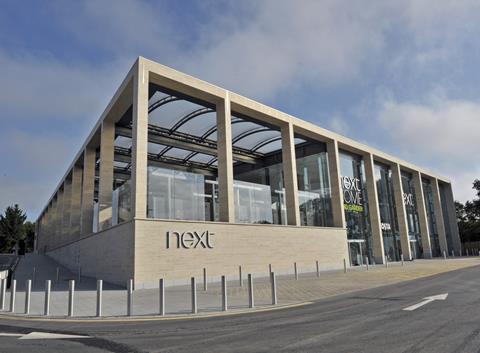 The retailer will turn its back on the traditional retail park 'shed' in selected locations and instead open statement stores that reflect its reputation for style while still meeting financial returns criteria.
"If we went back 20 years, we'd have built nicer sheds"

Simon Wolfson, Next chief executive
As it increasingly focuses on large-format stores, which this year will account for 70% of new space, Next sees opportunity to create what it calls "design-and-build" stores as it opens in new locations.
Next chief executive Simon Wolfson said: "Some of the new sites we have secured require the construction of a new building. We intend to use this as an opportunity to invest in the architecture and external appearance of our stores.
"Our aim is to redefine what can be achieved out of town, moving away from the traditional 'shed' to architectural buildings that reflect the design aspirations of our product ranges.
"To achieve this we are using high-quality materials both inside and outside of the buildings."
The first such store opened at Hedge End, Southampton, in August, and sales expectations have been lifted from £19.5m to £21m on performance so far.
Two more are planned within the next 12 months in Maidstone, Kent, and High Wycombe, Bucks. Another will follow in Norwich in 2016 and several more are under negotiation with landlords and planners.
Wolfson said: "There's an enormous opportunity to change the look and feel of out-of-town retail. If we went back 20 years, we'd have built nicer sheds. It was a slight own-goal now we know how much can be taken out of town."
Next has also been improving the look of existing stores, such as that in Romford, Essex, where "plasticky-looking" cladding has been replaced with glass frontage.
Development of the store estate is one of Next's five priorities in the current year.