The newly opened Helly Hansen store, in Manchester's Arndale Centre, says much about the Continental view of the UK.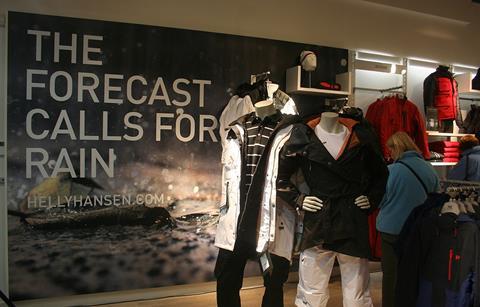 A large graphic to the left of the entrance to this spacious 2,690 sq ft space announces in bold capitals "THE FORECAST CALLS FOR RAIN".
This being the capital of the Northwest, this might seem like a blinding glimpse of the obvious, but there is rather more to this shop than just a call for the kind of weather that will require rugged outdoorwear.
According to Helly Hansen UK sales director David Wiley, HH (as the brand styles itself on its garments and on various graphics around the shop) is rather better known and patronised in the North. This, he claims, is because the North is quicker at picking up on certain types of fashion than drab London and the South.
Whatever your views on this, shoppers heading for the UK's first standalone HH store will be confronted by a shop that a spokesman said is clean, fresh and Scandinavian in feel.
The latter is hardly surprising, given that the head office is in Oslo.
But this white box does leave plenty of room to move, has a layout based on gender that is easily understood, and has simple white modular mid-shop display equipment that can be readily remerchandised.
Couple this with a "heritage" pillar, giving details of the brand's history and an environment in which the generally brightly coloured stock can speak for itself, and you have an interesting addition to the newer part of this Mancunian shopping centre.