Some of the most digitally savvy outfits on the high street want to look anything but. It's about making shoppers feel at home.
What happens when a tech giant or an online merchant decides to go physical? It would be easy to imagine that stores of this kind would be filled with digital 'touch points', ranging from staff with mobile devices to multiple tablets dotted around, all aimed at leveraging a brand's online heritage now that it has opted to deal with real world shoppers.
Yet to judge by some on this path, the order of the day is to create stores that look as far away from the laptop or handheld as is possible to get.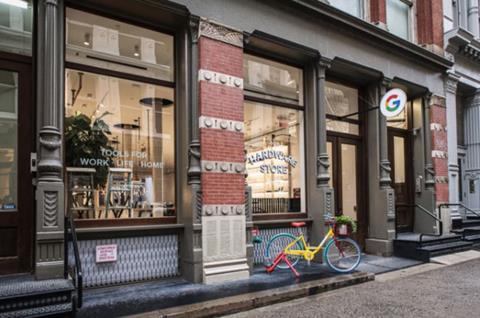 The newly-opened pop-ups from Google in Chicago and New York are a case in point. The Google Hardware Stores sell hi-tech items such as digital assistants but in an ostensibly low-tech manner.
The staff wear aprons of the kind that Ike in The Waltons would be proud, and the merchandise is displayed on homely wooden fixtures.
There are swings, a gift-wrapping station and a log cabin 'treehouse' in which shoppers can discover the joy of the 'connected' home, without appearing to be doing so.
All of this is dedicated to ensuring that you inspect the latest widgets, but that you do so in an environment that does not mirror the hi-techness of the stock on offer.
Retro refits
Then there's Casper. This is the US online mattress company (available as a web purchase in the UK) that offers visitors to its physical stores – and there are a lot of them – the chance to check out the merchandise in faux cabin/wooden homes.
Again, the sensation on visiting one of these stores is distinctly undigital, in spite of the fact that the proprietors will probably know a lot about you from your online purchase habits long before you step across their threshold.
And this side of the pond, Loaf serves as an example of digital that doesn't want to look digital. The online sofa and bed retailer's stores are as comfortably undigital in appearance as anything that you might have encountered before the internet shopping revolution.
Yet like its peers, this is a mask. The stores are hi-tech arenas with old-school veneers.
Note might also be made of the fact that Burberry recently stripped most of the customer-facing tech out of its Regent Street flagship.
Retailers in the digital vanguard seem to have worked out that shoppers want almost retro shopping environments, places where they can comfortably feel at home, while at the same instant embracing a brave new world of tech.