Pressure on stores to deliver strong sales means fixtures are becoming an increasingly important component of the brand offer. Mark Faithfull looks at some innovations.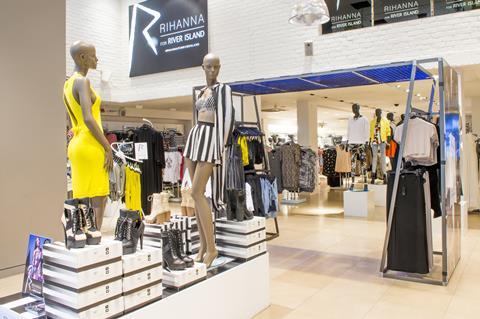 Doing more with less is becoming the mantra for shop fixture strategies amid the need to optimise store performance. As in many fields of retail, this is reflected in a polarisation of approaches - some retailers adopt a flagship 'big is better' store approach, while others combine their in-store retail offer with a wider proposition based on a multichannel strategy.
Part of that approach is reflected in the way interior shopfits and display units mirror the strategy taken by the retailer, from integrating screens and touchpoints around stores so that the in-store technology is accessible, secure and easy to use, to stripping back the interior design and creating industrial, pared-back and brand-relevant display techniques. As such there is a clear polarisation in approach, with some interiors boosting the design role the fixtures play through bold branding, graphics and colouring, while others are pulling back the fixtures for a minimalist, natural finish, which creates a sense of space and modernity.
The store display systems are required to be flexible and adaptable to the changing needs of the space and the introduction of new components, especially where new techniques and consumer interaction trials are taking place and will, inevitably, need adjustment to get right. The age of the static store design certainly appears over, especially as the percentage of technology-influenced sales continues to soar.
The bottom line, in an era where store strategies are evolving rapidly and large and small retailers are keen to move away from the cookie-cutter design approach, is that such display techniques provide cost-effective, brand-coherent and flexible solutions.
River Island, Oxford Street, London
Freestanding or wall mounted, Slash is an all-around system composed of 15x40mm rectangular slotted profiles and aluminium alloy joints. The geometrical and clear-cut fixturing has been used throughout the River Island store on Oxford Street - Slash's slots are hidden in the painted-steel structure, in which accessories can be attached and removed without tools. With several design set-ups (angled slash, vertical or radial), as well as versatile accessories, the system can be easily customised. Slash's special slots maximise display capacity: crossbars can be aligned, even between two units, to create a configuration that runs along the wall seamlessly. At River Island the fittings have been used to incorporate special graphics for ranges such as the Rihanna collection and to reinforce the interior scheme.
Tsesay, King's Road, London
The UK arm of Austrian shopfitting giant Umdasch carried out the shopfitting and fixturing design for the new 215 sq ft Tsesay store on Chelsea's King's Road. The luxury knitwear brand took its first step into the UK market with the store, which opened in March. The shop design is inspired by the vibrancy of New York, and cladding the walls with white bricks, bare metal and natural wood elements developed an urban loft
atmosphere. The merchandise displays have been pared back to reflect this approach, colour-co-ordinated with the store's scheme and kept clean and simple in the boutique-style space.
Primark, Oxford Street, London
Primark's east Oxford Street store, located at the junction of Tottenham Court Road, incorporates exposed brick walls, giant LED screens and a dark, theatrical media room where the latest fashion lines are on display.
At peak times, 2,500 customers can shop in the 82,000 sq ft store, which has 111 cash desks and 92 fitting rooms, all provided and installed by shopfitter Havelock Europa. It worked with the main contractor Pattons on a 20-week fit-out programme to take the store from concept to opening. 80% of the fixtures and fittings have been bespoke and, in contrast to some of the other projects featured, here the displays are strongly coloured, bright and brash to complement the busy interior. Havelock supplied and installed the perimeter panelling, wardrobes, fitting rooms,cash desks, low-level walls, panelling to customer lifts and feature displays to the open atriums, as well as the feature displays in the media room and tunnel.
Karl Lagerfeld, Paris
Karl Lagerfeld's latest Paris store blends edgy modern and classic, shiny and matt elements. Black, white, mirrors and walls of light form the backdrop for the distinctive product presentation, and the store concept is centred on what the retailer calls the 'virtual window to Karl Lagerfeld'. In March, Paris became the first store to open with this new approach and it carries the complete range of ready-to-wear and accessories in a 2,153 sq ft space. The store fixtures, installed by Vizona, have been kept very simple and are used to display a digital guestbook, interactive screens for online checkout along with many other technology features.
Connected to a multimedia screen at the back of the store, iPads provide interaction with the content they display, while built-in touchscreens in the fitting rooms allow customers to capture their look and apply different kinds of Karl-inspired filters to their photo, which can be shared on Facebook or Twitter. iPad Minis have been integrated into the racks to enable shoppers to explore
the entire collections.
Montreux Jazz Café, Harrods, London
Portland was behind the latest - and first British - Montreux Jazz Café, a hybrid cafe and retail offer launched at Harrods. It represents the next generation of Montreux Jazz Cafés - there are already two in Geneva and Zurich - and is the brand's first premium experience offering food and beverages and premium to luxury merchandising.
Lewis Allen, director of environments at Portland, says: "The idea is to bring people closer to the experience of what Montreux Jazz Festival is all about, the feeling of being personally alive which live music inspires. It is essential to make the brand emotionally accessible to people and to emphasise the festival's focus on uncompromisingly high standards of musical performance, both creatively and acoustically."
As well as a cafe serving Swiss-inspired drinks and light food, there is a retail space selling festival-related products. The display systems have been colour-co-ordinated with the interior, mixing high wall units with lower level, free-standing displays and taller displays, which help divide the uncluttered space.
Asprey, New Bond Street, London
GP Studios was asked to oversee restoration of three generations of fittings in the Asprey flagship. They included the original Asprey antiques, fixtures designed as part of the Foster+Partners scheme in 2004 that needed to be overhauled, and finally, new bespoke fixtures.
The latter are in timber veneer, bronze metalwork, glass and leather with integral LED lighting. They have been designed to blend with the existing palette of fixtures.
Kinoko Custom Cycles, Golden Square, London
Better known as the Tokyo Fixed store, under its new name Kinoko Custom Cycles the shop launched in London's Golden Square in May both as a rebranded offer and as a replacement for the original branch, which opened on Peter Street in 2009. Design agency HarrimanSteel developed the branding and designs for the 2,153 sq ft, split-level Kinoko flagship and introduced a bold, red colour reflecting the brand's Japanese origins. For the store design, HarrimanSteel aimed for an "industrial but hand-crafted" look for the interiors, which use materials including birch ply and chandler's rope. Display cabinets, wooden shelving units and wall-mounted mesh systems have been used to create a pared-back feeling, offsetting the polished concrete flooring. Merchandise is largely displayed around the perimeters, retaining an open feel to the space, which is designed to make cyclists feel the store is a "home from home".