There is much to be in awe of about Amazon, but can its forays into the world of physical retail be numbered among its successes? 
Since it opened at the company's Seattle head office a little over a year ago, a lot has been written about Amazon Go, the checkout-free convenience store – and at some point this year the format is expected to make its London debut.
But Amazon Go is just a small part of the tech giant's bricks-and-mortar footprint and if you need a sense of where the company's physical portfolio is headed, one of the best places to visit is New York City.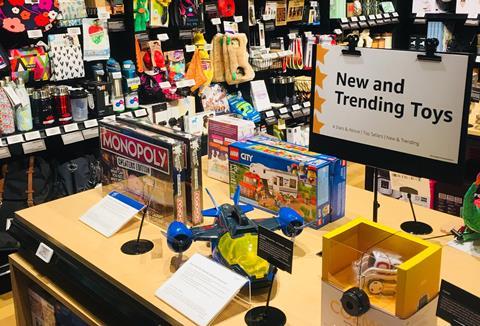 Here, Amazon Books has been up and running since 2017 and Whole Foods Market is increasingly showing signs of who its new owner is – notably through the installation of dedicated Amazon Prime rooms.
Most recently, Amazon 4-Star, the shop with stock that has positive Amazon reviews, has appeared downtown in SoHo.
The question is, however, are the stores any good, and do bricks-and-mortar operators have as much to fear from what Amazon is doing in the physical world as they do about its virtual presence?
Flawed 4-Star
Amazon Books is a relatively well-established feature of the Big Apple's retail landscape with two stores in Manhattan.
As has been well rehearsed elsewhere, these stores are predominantly about books (though digital personal assistants and gifts feature strongly) and almost all of them have been given the thumbs-up by readers in their online reviews.
It's a line of thinking that informs the offer in 4-Star, but it is not without its flaws.
In the 4-Star store, there is a wide selection of categories and, as the name suggests, almost everything on display has been given four stars or more (there are actually a good number of three-star items, but these are "trending", apparently) by online shoppers.
Amazon 4-Star is more marketing vehicle than sales outlet. It looks more like a means of getting consumers to become Amazon Prime consumers
There is a problem, however. On the day of visiting there was a turquoise Kitchen Aid mixer on display. On a nearby shelf there was a Kitchen Aid kettle, this time in red, as this was the colour that had proved popular online.
Buying both products in the same colour was therefore problematic unless you ordered one of the items via your mobile and then got it delivered.
Amazon 4-Star is more marketing vehicle than sales outlet. Yes, there will certainly be sales, but this looks rather more like a means of getting consumers to become Amazon Prime consumers.
The other point about a shop filled solely with merchandise that has been given the digital thumbs-up is that product adjacencies disappear. Indeed, any idea of visual merchandising, store layout or customer flow looks an afterthought.
The product selection appears scattergun and makes it difficult to shop. Perhaps Amazon expects shoppers to use its app while in-store, but when viewed in isolation the shop certainly has its shortcomings.
Amazon Go: is it really the future?
Open to the public since January 2018 (it was open to Amazon head office employees in December 2016), the Amazon Go store in the company's Seattle HQ was hailed by many when it opened as the next big thing.
This was the store that threatened to rip the heart out of supermarkets and to pursue a Genghis Khan-like progress across the retail world, making vassals of others or even destroying them.
A year later there are nine Amazon Go stores and they are solely in metropolitan America – reports of the death of the supermarket might seem premature, based on this.
According to Amazon, the technology that underpins its Amazon Go stores is a combination of 'computer vision' and 'deep learning algorithms' (both of which equate to a lot of cameras linked to computers) and judging from last month's NRF in New York, there are many software companies that are queuing up to emulate the lead provided by Amazon – and Alibaba in China – as far as cashier-free stores are concerned.
Yet, outside China, there is little to indicate that where Amazon has trailblazed others are prepared to commit substantial amounts of cash to this version of future retail.
Once again, Amazon has talked a good game and got a huge amount of positive press. But that is about as far as it has gone.
This is not, of course, to say that it won't get things right. First-mover advantage should mean it will and it has sufficiently deep pockets to make it all work, providing of course that 'frictionless' (aka: staff-free) does prove to be what shoppers want.
It is one thing to pander to consumer needs and desires, quite another to impose a modus operandi that is thought to be what they want.
As still largely uncharted territory, the cashier-less store has a long way to go and the snail's pace progress made so far in Amazon Go world might indicate that early results have not been as sparkling as might originally have been anticipated.
Amazonisation of Whole Foods
Across the water in Brooklyn, there is a large, two-floor branch of Whole Foods. This one has been open since 2016 but following Amazon's acquisition of the retailer in 2017, there has been a pattern of gradual Amazonisation.
Practically, this means more than a smattering of lower prices. There is also store-wide signage advertising the merits of Prime, with information about the available discounts on selected products for members.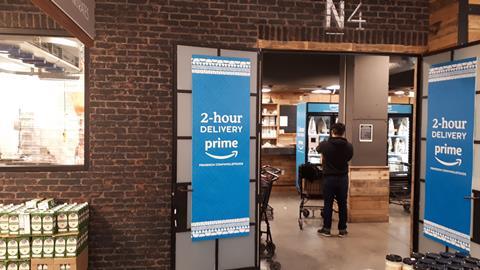 It also means delivery to your home. This is where one of the major physical changes has been wrought. In the basement, there used to be a bar serving a wide variety of craft beers. This has gone and instead there is an Amazon Prime room, where online orders are assembled, having been picked in-store and readied for despatch.
There is nothing wrong with this, other than the fact that one of the elements that made this store a Whole Foods – setting it apart from the competition – has been removed.
Elsewhere, the in-store cafe now has a bank of Amazon lockers and if you want a Kindle or digital assistant, these are on hand in a display close to the checkouts.
Trojan horse
So what does the combination of Amazon 4-Star and the Whole Foods store in Brooklyn say about the online leviathan as a bricks-and-mortar merchant?
There is certainly the feeling that it points towards a ruthless operation and equally that, in spite of initial protestations to the contrary, it is quite prepared to change an existing format to suit its mostly online purposes.
For shoppers, this may mean confusion in 4-Star and the feeling that Whole Foods is losing its soul. Whether this will mean sales are being sacrificed in the physical world to boost revenues from the virtual marketplace is an interesting thought.
Amazon's immediate impact on the UK high street may be less destructive than many might imagine
On the face of it, Amazon does not look like a terribly good physical retailer, but that may well not be the point. It is hard not to wonder whether the stores are a case of a sprat to catch an online mackerel.
If and when Amazon's physical presence becomes an on-the-ground reality in the UK later this year, its immediate impact on the high street may be less destructive than many might imagine.
That said, if the strategy really is to use physical shops to drive traffic online, in the longer term that effect could be more telling as defection from physical shops gathers further momentum, ironically via physical shops.
Viewed this way, Amazon's high street presence, of whatever form, is a digital Trojan horse, poised to unleash major problems for physical shopkeepers.
Rivals wishing to counter this will need to be agile on both sides of the digital divide.