As online and offline retail merge, an increasing trend is the physical store that aims to behave like a website. John Ryan considers the implications.
Walk into the average shop and it's a fair bet there will be many digital elements. However, in a number of cases these look as if they have been layered on top of an existing store, rather than being part of an integrated whole.
Physical retailers may be perfectly familiar with digital and have good websites, but the in-store experience remains doggedly terrestrial.
However, there are pureplay retailers that have opted to try and make digital part of a high street store's blueprint.
In a number of instances, this has translated into stores that are intended to look more like websites than what might normally be thought of as a 'shop'.
Pureplay inspiration
Partner at consultancy Elixirr, Brian Kalms, says that in some cases physical retailers are looking at online merchants for clues about how to conduct themselves: "The trend towards replicating online experiences in-store makes sense given that increasingly the online experience is superior in terms of personalisation and product filtering."
For a clue about how it might be done, Amazon has put its best foot forward. Visit either of the retailer's two bookstores in New York City – there are now 13 outlets across the US – and what is on view is a website made real.
The store plays all of the tricks that you'd expect of a data-led website, albeit in a distinctly analogue fashion. On the perimeter shelves, small shelf-edge notices read 'if you liked this, you'll love this' in the same manner the etailer's online portal.
None of the books that are on show score less than four out of a possible five from online reviews, and there is a push to turn shoppers into Amazon Prime members by offering them two prices – one for regular shoppers and one for those who are a part of Prime.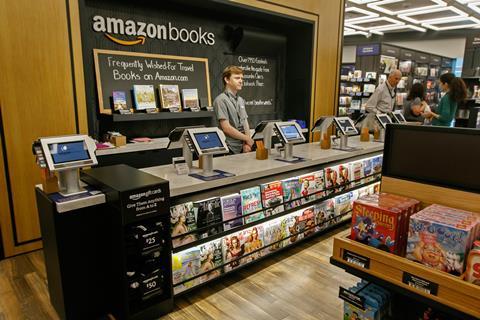 For the most part, it actually looks like a normal bookshop. It is only when the shopper moves around the library-style shelves (to which small barcode scanners are attached) that it becomes apparent that this is actually quite a long way removed from physical retail norms.
This is about bringing terrestrial shoppers into the digital fold.
Although customers will probably emerge from Amazon Books with a novel in hand, it is more of a showroom for the Amazon website.
The notion of stores that act like websites is one that informs the increasing number of physical stores from online furniture retailer Loaf.
Loaf began as The Sleep Room in 2008 and became Loaf in 2012 as it moved into selling more sofas as well as mattresses and beds.
It was not until 2015 however, that it became a physical retailer. Now it has three outlets in London and one in Guildford's newly refurbished Tunsgate Quarter, which opened in March.
It will open its next branch in Wilmslow, Cheshire in May as Loaf extends its physical operations northwards.
Visit the Loaf website and the browser is encouraged to 'visit our shacks' (stores) with the message that they are 'slowrooms, not showrooms'.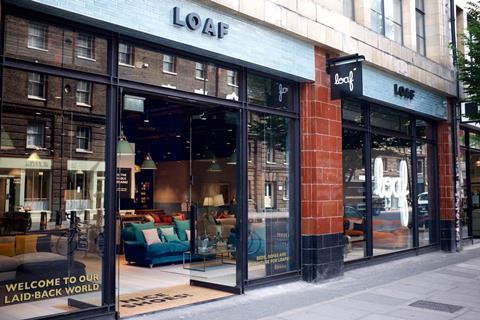 Yet showrooms they are, as shoppers entering them cannot buy something and carry it out of the store.
These are spaces in which most of the online range can be inspected at close quarters, prior to an order being placed, which will then be delivered after the shopper has left the store.
This store brings the website to the high street, and allows the shopper to look, touch and enjoy the stock – a feature that still eludes online merchants.
Loaf's founder Charlie Marshall says that the move into physical retail was the outcome of the changing commercial landscape: "We chose to open our first full-scale physical store having noticed more and more people coming to see the products at our original office/showroom-style space in London.
"We've been lucky enough to have an awful lot of customers who purchase on the web, but the big prize is getting out to the masses and you need stores to do that.
"I believe the future of retail will see ecommerce brands migrating to physical spaces with multichannel platforms working more intelligently alongside each other."
The Loaf homepage says, 'Welcome to our laid back world' – a feeling exactly replicated in the stores. In terms of tone of voice and keeping things simple, there is no dissonance between the two parts of this retail equation.
Like Amazon, visiting a Loaf shack is of a curiously old-fashioned approach to selling – digital bells and whistles are absent, allowing for the product to shine through.
Missguided's physical website
Few seem to have gone further down this road of bringing a website to life than Missguided, which operates stores in Westfield Stratford and Bluewater.
When Missguided was planning its first store in Westfield Stratford – which opened at the end of 2016 – design consultancy Dalziel + Pow was given the brief to make a website physical.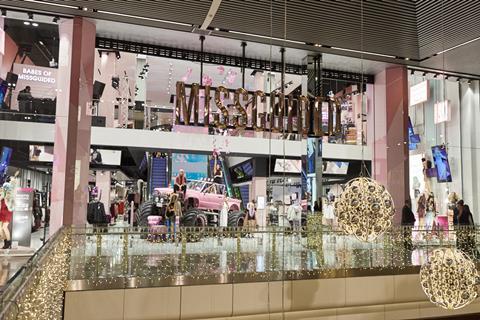 The answer to this, for the passing shopper, was light boxes.
The store has an open front allowing shoppers to see into a cavernous atrium with the flanking walls festooned with light boxes bearing messages such as 'official babe uniform' and 'Santa is real, the unicorns told me'.
Others have fashion shots, while on the floor further online-to-physical links are made by graphics such as '#asspirational'.
In total, the impression is of a deconstructed website where images and messages are flashed continuously at the shopper.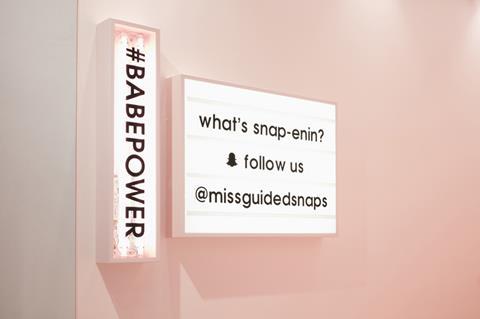 Going further into the shop, display equipment has small screens around them, each with a different image, which makes looking at the products akin to browsing a website.
Design director at Dalziel + Pow Sarah Fairhurst says that the store's underlying concept is "on air" – an idea that makes shoppers with short attention spans connected at all times by using mobile devices as its starting point.
The store is aimed at customers who like to shop online first, but will still head for the cash desk to make a purchase.
Content is king
Pureplayers are also using stores to bring the content one would find online to life.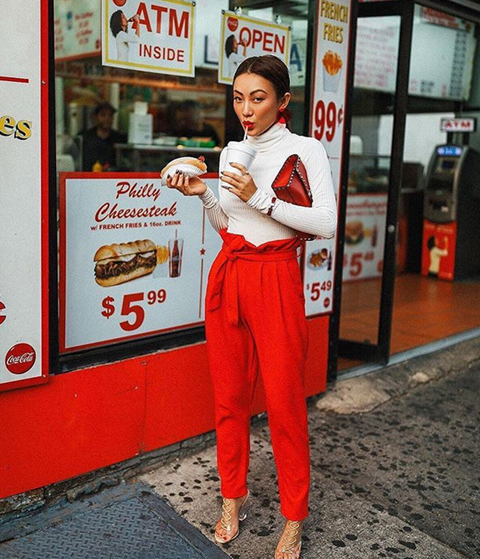 Boohoo-owned fashion retailer Nasty Gal opened a pop-up on Carnaby Street in November last year and among a range of attractions it offered live talks from the fashion editor of Wonderland magazine and social influencer Nia from Fro Girl Ginny.
Boohoo.com did something similar the previous year in New York City with a store where big-name bloggers and stylists were on hand to offer fashion tips, just like they would do online.
Can traditional retailers follow suit?
Online retailers have been fleet of foot when it comes to using the data they have collected to inform the way they behave both in their virtual and physical stores, but can the same be said of more traditional bricks-and-mortar outfits?
Founder of kitchenwares retailer Steamer Trading David Phillips says historically very little data is used in store.
"If you know your shops very well, you know what works and tend to act more on instinct than perhaps you should," he says.
"It becomes more difficult the bigger you get and we do use sales data to work out what should go where, but again, because every store is different, this isn't as easy as it might sound."
On the larger scale referred to by Phillips, Debenhams boss Sergio Bucher has made it clear that information gained from the retailer's website is being used to inform elements across the physical portfolio.
For example, website data from catchment areas is being used to help range its stores.
Additionally, in Debenhams' Stevenage store, a fitting room has been sited next to its click-and-collect desk.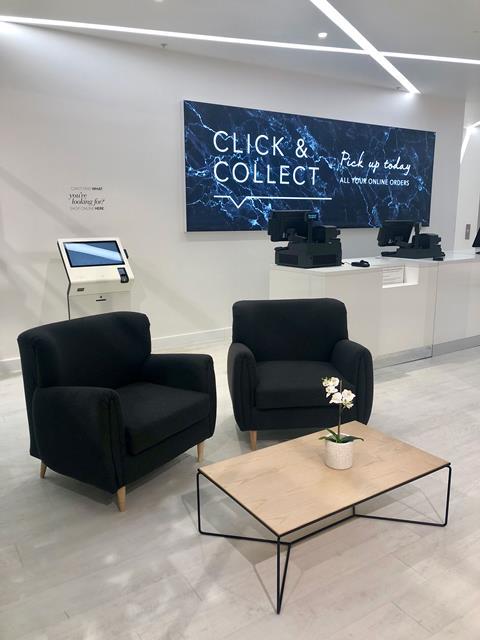 Using data about a customer's previous buying habits, a range of 'if you like this, you'll love these' items are put together, which can then be examined and tried on in situ.
This is an example of cross-selling that is almost second nature for online retailers and is gradually gaining high street traction.
And many of the displays in Debenhams' Stevenage store are arranged by category, rather than brand.
This mimics the online approach of department store retail, in a move away from the concession approach, meaning that consumers do not have to contend products being in multiple locations across a floor.
Bucher says that work is currently underway to create a new beauty concept that "will combine our physical presence, our online presence and allow us to create what I think is going to be a very exciting new take on what a beauty hall is, with a fair amount of online integration".
Chief customer officer at Paperchase Joe Irons says that the retailer pays close attention to online sales and social media feeds, and if something is popular across those channels "you can bet it will be good in the stores".
"It's about supporting what we do in the stores. Good old fashioned visual merchandising still has a major part to play," he says.
The head of design of one major high street retailer agrees that more should be done to take information gleaned online to work out what needs to be done in a physical environment, but this remains a work in progress.
These are still early days and online retailers are not alone in peering across the digital divide to see what might be done differently.
When they do so, they are very likely to find physical retailers staring back in the opposite direction.
The grey area between online and offline retail is becoming ever more indistinct.