It's not every day that reading a stock exchange announcement brings laughter and open-mouthed disbelief.
Mike Ashley and Sports Direct achieved that rare feat last Friday with an inexplicable and splenetic diatribe hitting out at its shareholders – the likes of which have surely not been seen before from the boss of a public company.
"Despite the substantial progress made over the last few years, the shareholders have now made it extremely challenging for future engagement to take place," Ashley claimed in his bizarre investor bashing.
The billionaire hit out at stakeholders for "repeatedly hounding" Keith Hellawell – the former chairman who stood down following Sports Direct's AGM last Wednesday – and claimed they had "stabbed Sports Direct and myself in the back".
"A third of independent shareholders tried to block Ashley's reappointment as Sports Direct boss at its AGM"
The dust is yet to settle on Ashley's extraordinary decision to go public with his disdain and it has likely left the already strained company-shareholder relationship in a state that is beyond repair.
To a degree, Ashley had a point with his remarkable rant – but only to a degree.
"Sports Direct embarked on its elevation strategy, which has been well received, not only within the industry, but also by our customers and in the City," Ashley insisted.
He is right. New-look stores in places including Thurrock and Southampton – featuring USC and Flannels shop-in-shops and merchandising that better showcases brands such as Nike, Adidas and Under Armour – represent a huge leap forward for the business, bringing Ashley's vision to become 'the Selfridges of sport' to life.
Ashley continued: "Despite significant challenges within the retail sector in the UK and beyond… Sports Direct has continued to perform well and exceed market expectations."
Credit where credit is due
There is certainly no escaping the scale of the challenges gripping the high street. A number of businesses have gone to the wall since the turn of the year, while others are being forced to launch radical CVA proposals to lay the foundations for turnaround bids.
Sports Direct, and Ashley, deserve huge credit not only for weathering that storm but for going on the offensive with the £90m acquisition of House of Fraser.
But to accuse a "media circus", other organisations and investors of subjecting Sports Direct to "disproportionate scrutiny and misrepresentation" is, at best, misguided – and completely bonkers at worst.
There is, after all, no smoke without fire. Sports Direct has not done itself any favours with its warehouse practices and the use of zero-hour contracts – nor its substandard communication about those issues with the City and the media.
Such controversies have hit investors in the pocket. Sports Direct's stock has fallen dramatically since its April 2014 peak of 922p. With the share price now languishing around 350p, it is no wonder that stakeholders are applying the pressure in a desperate bid for change.
More than a third of independent shareholders tried to block Ashley's reappointment as Sports Direct boss at its AGM, with vocal backing from advisory groups Glass Lewis, Pirc and Institutional Shareholder Services.
As tensions reach boiling point, could it be time for Ashley to take the business he created back into private ownership?
"Ashley is not a polished, pragmatic public speaker – characteristics the City demands of the modern-day Plc boss"
The tycoon would surely now admit that floating Sports Direct in 2007, despite the £929m he raised from the IPO, has descended into an unmitigated disaster.
He detests the attention and scrutiny that comes with the territory of being the founder and chief executive of a listed business. Buying out his remaining shareholders would allow him to escape some of the limelight.
Ashley has rarely fronted up and spoken to the media or shareholders during the course of the past decade, even refusing to address investors at last week's AGM.
The truth is that is not his strength. Ashley is an entrepreneur, a deal maker, a gambler and an opportunist.
He is not a polished, pragmatic public speaker – characteristics the City demands of the modern-day Plc boss.
Investors haven't, therefore, stabbed Ashley in the back. They have simply held him, and his business, to the same standards to which they would hold any other public company.
The best outcome for everyone would be for Ashley to buy out Sports Direct's long-suffering shareholders – and allow both parties to put the knives away.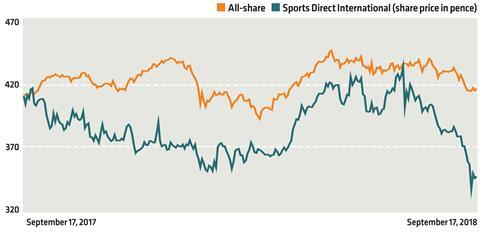 Luke Tugby is deputy editor at Retail Week.