Sir Philip Green this afternoon gave David Cameron his support in the forthcoming election.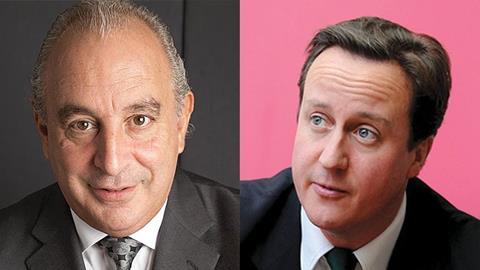 In an event at the Fashion Retail Academy this afternoon, the Arcadia owner said: "What we need now is a clean start - we really can't leave it as it is," he said. "I've met with David and George [Osborne], I've sat with them and they understand what needs to be done, I think they get it." However, he stressed he was not advising the Academy's students on which party to vote for.
Speaking in front of an audience of the Academy's students - which also included fellow retail chiefs Sir Stuart Rose, Charles Dunstone and Simon Wolfson, as well as Osborne and Cameron's wife Samantha - Green said that the most important thing for a new government to do was to ensure that the public sector was run as efficiently as business. "Money could be saved, should be saved and has to be saved."
Cameron used Green as an example of his main campaign theme of the 'Big Society'. "Philip has played a huge role in building the bigger society, not just through his charity work but also through this academy." He reiterated his attack on the planned National Insurance rise, describing it as Labour's "jobs tax".
And he stressed that he understood the importance of fashion to the UK economy. "You don't have to tell me how important the fashion industry is - it employs my wife," he joked. "Fashion retail is a huge wealth-creating success story and we need more success stories like that in our country today."
Seperately Richard Caring, rag trade millionaire and a long-term associate of Green, has also thrown his weight behind the Conservatives. Caring said he had swapped allegiance from Labour to Conservative because it was "time for a change".
Caring told The Daily Telegraph he was confident Britain would avoid a double-dip recession but that he harboured other concerns."We've been through the worst economically but I think we're going to have the very unfortunate circumstance of a hung parliment," he said.