Any analysis of the shopfitting sector reveals that business has been tough and continues to struggle. John Ryan looks at the landscape as we unveil this year's top shopfitter survey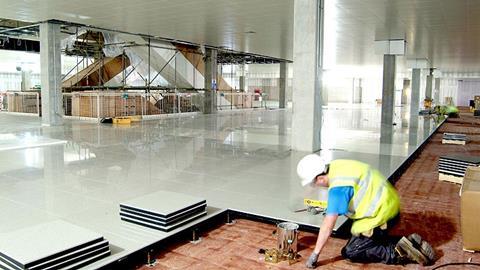 Retailers have, to an extent, unlocked their refurb and new build purses this year and the outcome has been rather more activity on the shopfitting front than was the case during 2009. Given that this league table is inevitably retrospective therefore, the picture displayed is generally gloomy, although this may not accurately reflect the picture on the ground.
And while it might seem churlish to single out any particular company for close scrutiny there are a couple of plcs that serve to illustrate how things were during 2009 and how they are developing in the current year. Havelock Europa, the group that fits out everything from school classrooms to department stores made a loss, in total, of £2m and saw revenues from its Retail Interiors division plummet by 47%, from just over £60m to £31.9m.
The decrease was blamed by the company on "lower levels of activity by all customers," which seems a mirror image of the experience of the majority during 2009, including the company that remains at the top of the table, but on a much reduced stipend: Styles & Wood.
The Altrincham-based retail property services and shopfitting concern saw its turnover fall by 43% during the period, almost as bad as Havelock with sales more than £100m lower than during the previous year.
There were also redundancies and a pretty rigorous restructuring, yet as we head towards the end of 2010, Styles & Wood chief executive Ivan McKeever is, if not bullish, rather more optimistic than in 2009: "It was a tough start to 2010, but the business is likely to return to profit this year - which is good as that was the aim of the turnaround strategy," he says.
He adds that the order book for the current year is 10% higher than in 2009, but that retailers are continuing to hold back their spending and "driving down costs".
A slight improvement therefore and if you were a politician it might be sufficient to merit the use of the 'green shoots' phrase. McKeever also points out that gross margins at the firm have jumped from 6.1% to 7.4%, a sign, surely, that things may be on the mend.
However, he is not upbeat about the prospects for the market as a whole: "It'll remain tough. Our business will start to recover, but it's not because of the market. It will simply be because we've started to get our business in shape again."
The sense that things may finally be taking a turn for the better, following a period of almost unparalleled economic severity for the sector, seems general however, in spite of McKeever's assessment. George Morris, chairman and chief executive of Glasgow shopfitting behemoth Morris & Spottiswood, sees a change: "I think things are a little bit better than last year or the year before. It's all about confidence. We've gone through a pre-2011 audit of where we think the fit-out business will be and we believe it will be at least at 2010 levels - better than we might have thought last year."
Morris has reason for this confidence with Primark, which has proved one of the more recession-proof retailers, as a client. It's a customer that he shares with Northern Ireland shopfitting company Patton Fit-Out, which has helped the Irish retailer to make its German debut with store projects in Bremen and Frankfurt.
Brendan Boyd, managing director of the retail fit-out division at Patton, comments: "2010 has been pretty busy so far. We've managed to maintain our turnover. I won't say where margins may be, but we've maintained sales. We're fortunate enough to be working with the people who are spending money." He notes, however, that "the Irish [retail] market is not good", something of an understatement, and so the company has been on a mild overseas sales drive to make up the shortfall.
Reasons to be cheerful
Cautious reason to think that things may be improving therefore and for shopfitters that happen to have working relationships with retailers that have recently been on the refurb and new store path, there is reason to imagine that things may yet turn out reasonably. And away from the shopfitting fraternity, it is interesting to note the activity that has been taking place in recruitment for the sector. Bob Garton, managing director of headhunters Glencourt, says: "There have been more people looking for senior management in shopfitting companies than last year. Interestingly enough, although last year was certainly quieter, our average fee for finding management was up by about 20%, which shows that at the top end there was a premium for the right person." He continues: "The skillset required to manage a shopfitter in the good times is probably different from that needed for the bad times."
Garton concurs with Morris that shopfitting business is not back to pre-2008 levels, but says that since February there has been "a marked increase in activity". However, he makes the point that short-termism is now a marked feature of the sector landscape. "Shopfitters have got the programmes with retailers and they know the workload they've got until, say, the end of the year, so they're taking on people on five-month contracts."
There is also the phenomenon of retailers beating a path to safety and showing a tendency to use large, rather than small shopfitting concerns, when awarding contracts for large roll-out programmes. As McKeever observes, the reason for this is simple, it may initially make sense to use a cut-price operator, but consistency and reliability will make the difference between success and failure for retailers, so shopfitters have to be demonstrably solid.
In previous iterations of this survey, what has been remarkable has been how relatively little movement there is among the top 10 operators, with firms moving up or down by not much more than a couple of places during the course of a year. That pattern does not seem to have changed, but what is noteworthy is the size of the available cake.
National Association of Shopfitters director Robert Hudson says: "People are being asked to accept 30% less for the work they've been doing than 12 months ago. There are still reductions in pay hovering about. What this has done is focused the minds of shopfitters to take stock and cut out what was probably dead wood."
And yet there are anomalies to all of this and few are greater in the table than ISG Retail and Leisure, which has seen its sales leap from £42.3m in 2008 to £93.4m in 2009. This is certainly due, in part, to its acquisition of rival Cathedral Contracts in the middle of 2008, but this is still a sterling outcome, with growth "indicated" by the enlarged company of about 8%. Like others who have weathered the storm, ISG numbers Primark among its clients, but to this should also be added Monsoon and La Senza at Westfield and a host of retail banking roll-outs. Hudson makes the point that ISG has been one of the more assiduous in its efforts to "get on its bike" and find work.
Consolation in consolidation?
The result of all of this seems likely to be that over the next couple of years, consolidation of the kind represented by Cathedral Contracts' takeover of ISG will speed up. There are still more shopfitters in the current climate than there is work for them to carry out… unless they are prepared to look at Europe as a potential source of additional revenue. Cross-border activity of this kind has long been a mainstay of Euro-shopfitters such as Umdasch and Schweitzer, for whom the matter of work being in a different country has been merely a matter of putting an appropriate team together.
It's worth noting at this point the sheer scale of the Euro-operations. Umdasch, for instance, which has a UK office, is forecasting turnover for 2010 of e193m (£156m) - level on the 2009 figure and down somewhat on 2008's e254m (£209m) number, but still comfortably as large as the biggest UK outfit - and there are more companies like this. It all adds to a competitive environment in which more shopfitters are chasing fewer jobs.
Steve Price, managing director of third placed Wates Retail, puts the point succinctly: "The main concern is that the market's still very flat. Most of the competitors are still around. Everybody's still there, so the market's tougher. The big £10m-plus projects aren't coming through and retailers are very cautious about capital expenditure. So project values are decreasing and spend per square foot is getting tighter. For all of us, it's a period of uncertainty."
Price also highlights the fact that in previous years "by April or May you could plan where you were going to be by the end of the year because much of the work was in place through negotiated framework agreements. Now it's about tendering, so nothing's certain".
All of which notwithstanding, Price predicts that by the end of 2010 sales at Wates will be around £125m, about 10% to 15% ahead of 2009. Which does rather point to a situation in which there will be changes to the table during 2011 and 2012, but it is more likely to be in its lower reaches than in the top 10 companies.
Shopfitters in numbers
Company name
Year end
Revenue 2009
Revenue 2008
Profit 2009
Profit 2008
Styles & Wood
Dec-31
£139m
£243m
£557,000
£1.1m
Simons Group
Mar-31 (2009)
£135.7m
£188.1m
£306,000
£6.3m
Wates Retail
Dec-31
£111m
£170m
Morris & Spottiswood
Dec-31
£99.9m
£122.5m
£59,993
£2.1m
ISG Retail & Leisure
Jun-30 (2009)
£95.4m
£42.32m
£1.7m
£738,000
Patton Fit-Out
Nov-30
£63.6m
£61.1m
£900,000
Vinci **
£58.7m
£1.8m
Simpson (York)
Dec-31
£52.1m
£94.3m
£140,137
£595,563
Alan Nuttall
May-31 (2009)
£48.8m
£48.9m
£552,000
£1.3m
S Dudley & Sons
Aug-31 (2009)
£47.3m
£94m
£588,000
£1.2m
Havelock Europa
(retail fit-out)
Dec-31
£31.9m
(fit-out)
£60.4m
(fit-out)
Hurst Stores & Interiors
Mar-31 (2009)
£26.8m
£26.7m
£261,000
£557,000
Bridgford Interiors
£21.5m
£28.8m
£415,000
£845,000
Harvey Shopfitters
Nov-30
£22.6m
£22.7m
£625,743
£782,856
Vivid Interiors
Dec-31
£20m
£25.3m
£109,000
£579,000
Railston
Dec-31
£18.8m
£26.7m
£243,786
£271,328
Barnwood Shopfitting
Dec-31
£17.9m
£22.7m
£825,947
£1.2m
Barlows
Dec-31
£14.8m
£16.6m
-£25,521
-£340,000
Portview
Nov-30
£14.5m
£18.9m
£7,674
£7,621
Deane & Amos
Mar-31 (2009)
£13.3m
£14.2m
£363,956
£285,648
Pel Interiors
Dec-31
£12m
£30.5m
(£1.6m)
-£291,000
John Richards Shopfitters
Mar-31
£9.8m
£12m
£360,000
£400,000
Vizona
Dec-31
£9.5m
£15.7m
(£1.2m)
-£310,000
Newman Scott
Oct-31
£8m
£16.9m
-£500,000
£3.2m
Goodman Hitchens
Sep-30
£6.8m
£12.2m
£154,451
£235,422
Making the best of the shopfitting market
Consider Europe as a source of possible retail fit-out work. If it works for the big European-players, there is little reason that British shopfitters should be unable to compete and Germany, for example, is further along the road to recovery than the UK
Market your services. There has been a tendency among some shopfitters to rely upon word of mouth and recommendation. This is reasonable in a rising market, but in a flat commercial landscape, marketing is essential
Price is important in winning work, but so is reliability, a broad offer and covenants that demonstrate an ability to stay the course - retailers need certainty from shopfitters in the same manner as shopfitters need to know where the next project is coming from
Plan for the worst - you may be mildly surprised