Shop vacancies have increased to 12.4% in the six months to December 31, compared with 10% in the previous six month period.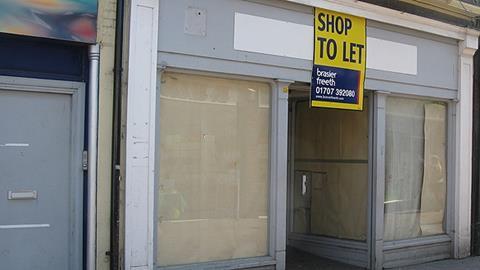 Join the campaign
According to Local Data Company (LDC) figures, the 25% increase is an improvement on the 100% rise experienced in the first half of 2009.
Wolverhampton has been hit hardest of all the large retail centres in the UK, with 23.9% of shops empty by the end of the year.
Bradford, Sheffield and Middlesbrough follow, while of the medium-sized shopping centres Margate is suffering the most, with 27.2% of shops lying empty. Central London is in line with the national average, 12.4%.
The LDC survey of more than 700 town centres shows that overall shop vacancy has nearly doubled in England and Wales since the end of 2008.
Vacancy rates across the South and East have increased 190% since the peak of the market in September 2007, according to the report.
British Property Federation chief executive Liz Peace said: "The fact of the matter is that Brits now do a lot more shopping over the web, so we're seeing a fundamental reshaping of high streets.
"The next government will need to balance cuts in spending with ideas for reinvigorating regions that have suffered from years of underinvestment. This doesn't mean simply building more shops, but a thorough re-evaluation of what we need and how we take existing empty properties and use them for other things.
We must encourage councils to make it easier for people to convert shops and people must accept that we won't go back to the high streets of yesteryear."