Debenhams. House of Fraser. French Connection. Agent Provocateur. Findel. Iconic Brands Group. Finish Line. Dick's Sporting Goods.
It's a diverse list of businesses with one common thread – they are all either wholly or partly owned by Sports Direct.
Founder Mike Ashley's strategy of taking stakes in rival retailers, both in the UK and the US, has regularly raised eyebrows in the City.
And his latest move, to snap up a 26% stake in embattled computer games specialist Game, which issued a profit warning last month, has certainly caused a stir.
According to Shore Capital analyst George Mensah, this was a "very surprising step" – even from Ashley who "appears highly erratic at times".
But is his £10m investment in Game a low-cost gamble, or is there method to his madness?
What's in it for Ashley?
In an attempt to put profit warnings and falling sales behind him, Game boss Martyn Gibbs is busily trying to diversify the business and revive its fortunes.
Gibbs is hoping to capitalise on the surging popularity of esports festivals, having snapped up Multiplay and SocialNAT, and aims to accelerate the roll-out of its in-store gaming arenas, of which it currently has a dozen.
And although there isn't an immediate strategic connection between Ashley's business and his latest retail investment, perhaps the chasm between sports and esports isn't quite as vast.
There is certainly an overlap in target market. Those who play football, tennis, golf or cricket games on their consoles are also fairly likely to play the sport for real – and will therefore be purchasers of sporting equipment and apparel.
So, perhaps Ashley is hoping to negotiate a potential partnership with Game having spied an opportunity to cross-sell to the esports participant.
It's possible that the maverick retailer has his eye on Sports Direct becoming the 'official retailer' of esports events, with the potential to sell football shirts at FIFA gaming tournaments, for instance.
Mensah says: "The statement outlines a possible desire to enter the esports market, which is clearly a growth channel.
"Do I think this is definitely a logical move? Not so much."
Shop-in-shops
There may even be an opportunity for a shop-in-shop tie-up between the retailers, with Game concessions within some of Ashley's larger stores.
Suitably positioned consoles in store, where shoppers can play sports-relevant games, could drive footfall, boost Sports Direct's dwell time and make the shopping journey more fun and experiential.
"Experiential retail is hot on the agenda," Mensah says.
"The company has talked a lot around becoming the sportswear equivalent of Selfridges so this diversification could be a step towards fulfilling that ambition in some abstract way."
This would be similar to the partnership the retailer currently has in place with Debenhams– in which Ashley also holds a stake – where Sports Direct operates a number of concessions.
Installing games consoles in stores may even help Sports Direct mount a fight back against high street rival JD Sports.
Bargain hunter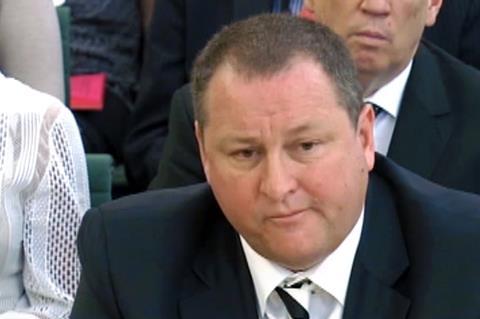 The alternative, but perhaps overly simplistic view is that Ashley, who has plenty of cash and is known to like a flutter, just wanted to bag himself a bargain.
It's fair to say that Game, having lost two-thirds of its market value in the space of a year, is not in the best shape of its life.
Indeed, following its most recent profit warning just a fortnight ago, Game's share price plummeted a further 30%, making the stock tantalisingly cheap.
Whatever motivated the audacious Ashley, it's clear that Game could do with a helping hand.
Veteran analyst Nick Bubb suggests Game's plight means it is now "desperate for support" and has been left "clutching at straws."
But the business will hope Ashley proves something more akin to a white knight to help Game progress to the next level.