Smiggle, the Australian stationery retailer, is set to launch in the UK this year as part of an international expansion push after expanding into Asia. Retail Week takes a look at the business.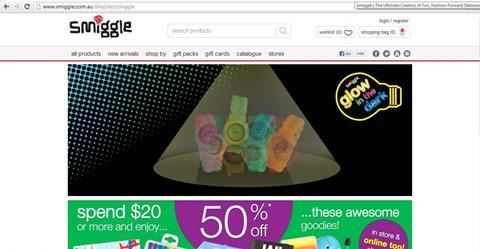 Smiggle is an Australian stationery retailer but it also stocks a wide array of products including bags, wallets, umbrellas and quirky gifts. It aims to retail items that are "engaging, collectable, fashionable and affordable".
Smiggle sales last year in the 52 weeks to July 28, 2012 surged 14% to AUS$78.3m.
The company name is a portmanteau of 'smile' and 'giggle'.
Smiggle is considering entering the UK market, looking out for locations in the South-East and has hinted that wider European expansion may be on the agenda.
It was founded in 2003 by Stephen Meurs and Peter Pausewang in Melbourne and it opened its first store in South Yarra.
In 2007 it was sold to Australian retail group The Just Group, which was taken over by Premier Investments in 2008.
Smiggle has rapidly expanded into Asia over the past year or so and now has 157 stores across Singpore, New Zealand and home market Australia. More store openings are planned and it wants to target South Korea, China, Japan and Malaysia in future.
Its core target market is 14-25 year old females, but it is increasingly expanding its audience with 10 to 40-year-olds now in its sights.
Premier has been focusing on driving growth at Smiggle over its other companies and last year said it contributed significantly to group performance.
In the UK, Smiggle's "colourful and fashion-forward stationery" could provide direct competition with stationery retailer Paperchase, as well as similarly placed retailers like WH Smith.