We look back over the last 150 years, and pick out some key moments in John Lewis's steady rise to department store domination.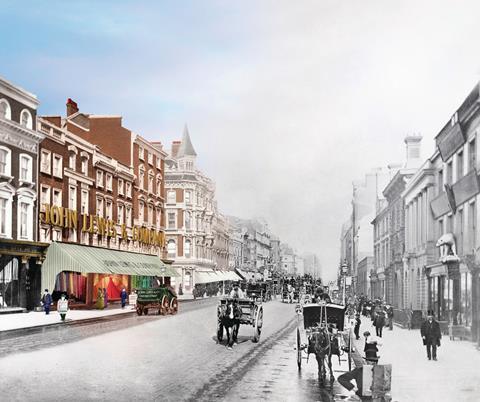 John Lewis opened his first store on Oxford Street – on the same site that the flagship still stands today – on May 2, 1864. He built it into a successful business, and his sons, John Spedan Lewis and Oswald Lewis, both followed him on to the shopfloor.
Spedan Lewis, who would go on to become the founder of the John Lewis Partnership, grew up at a time when Britain was feeling a sense of social unease at the gap between rich and poor. The first rumblings of the labour movement were being felt in the UK and socialism was gaining support across Europe.
The female emancipation movement was also in full flow – his mother, Eliza, was one of the few female Cambridge graduates of the time and was involved with the suffragettes.
Spedan was inclined towards the idea of social justice – at one stage, he looked at what he, his father and his brother were earning – a total of £26,000 a year – and compared it to what the rest of the staff in the business were paid – a total of £16,000 a year, and noted how unfair he thought this was. Not only did he think such inequality could lead to a lack of morale, but that it could affect the success of the business. But he was also a born retailer and capitalist – at 21, he was given a quarter share of the business by his father, which was then worth £50,000.
1905
The purchase of Peter Jones
In 1905, John Lewis senior heard that Peter Jones in Sloane Square might be for sale. At Christmas time that year, he took 20 £1,000 notes, walked from Oxford Street to Peter Jones and bought it. The two businesses continued rumbling along until 1909 when Spedan fell off his horse in Regent's Park and was badly injured. He spent two years recovering, during which he started to plan what he would do with the business when his father retired.
In 1911, he went back to work and suggested he take on the running of the Peter Jones store. Eventually his father agreed, under the arrangement that Spedan continue working in the Oxford Street store by day. He would work until 5pm at Oxford Street before going to Peter Jones, which at the time was suffering declining profits.
1914
Spedan takes over Peter Jones
Once his father handed over control, Spedan started to make changes. He brought in bright young graduates and recruited many women, which was unusual in those days, providing opportunities for those out of work after many men had returned to their jobs after the First World War in 1918.
One of the young women who joined was Sarah Beatrice Hunter, who started as a boot buyer. The year after joining she married Spedan Lewis and became a director of the company. She eventually served as deputy chairman of the partnership from 1929 to 1950.
Florence Lorimer was another Cambridge graduate who joined the company in 1925. She had previously worked at the British Museum and Spedan headhunted her, gave her £5,000 and asked her to go to Afghanistan and India to buy 'carpets and other goods', because they were fashionable at the time.
About 100 women joined the company between 1918 and 1935, including the aviator Amy Johnson. Other measures Lewis took to improve Peter Jones's performance included improving staff accommodation, displaying sales figures each day so staff could see how the business was doing, improving two-way communication between him and his staff, and the introduction of a pooled commission system.
He also launched The Gazette in 1918 to further improve communication. Within five years he had converted an annual deficit of £8,000 to a profit of £20,000.
1920
The Partnership foundations are laid
Oxford Street staff were so fed up with John Lewis senior in 1920 that they went on strike. The same year, Spedan offered his staff their first profit share.
Spedan kept everything completely hidden from his father and ran two sets of books - his father was quite volatile, and wouldn't have approved of his son's business principles. The two London stores were run separately, and started to differ fundamentally.
In 1919 Spedan had established the first staff council, which began the process of building the unique structure of the partnership - today, the Partnership Council still embodies the democratic culture of the business.
In 1920, he offered staff the first profit sharing scheme. They received shares in the business valued at 15% of their salaries. It wasn't until John Lewis senior died in 1929, however, that the Partnership was formally created. The business was then worth around £1m. Once the Partnership was formed, Spedan started rebuilding the Peter Jones store and bought the first shops outside of London, such as Tyrrell and Green in Southampton.
1925
Never knowingly undersold
In 1925 Spedan Lewis adopted the slogan 'Never knowingly undersold', which is still used today, at Peter Jones.
It soon became famous for reassuring customers they could not buy a product for less elsewhere. It was also the retailer's first advertising message, starting it on a marketing journey that would eventually produce ads such as The Bear & The Hare, which made its TV debut to an audience of millions during an X Factor ad break in November last year.
1937
The Partnership buys Waitrose
A period of expansion began in the 1930s, with department store acquisitions outside London and crucially, in 1937, the purchase of Waitrose. Lewis chose to buy the grocer because he wanted to expand into the hotel trade, and he needed the catering side to support that. At that point, Waitrose had 10 shops. In 1940, Spedan bought the Selfridge Provincial Stores Group - 15 department stores around the country that were previously owned by Harry Gordon Selfridge.
1940
Bombing of Oxford Street
During the Second World War the Oxford Street store was bombed and completely destroyed. All that survived was a small metal box that held staff tea money - the explosion melded the coins to the box. The main shop had to be pulled down, and the Cavendish Square frontage is now the only part of the current building that pre-dates the war. Amazingly, no one was hurt - the 200 people taking refuge in the shelters under the shop escaped unscathed. It took 20 years to rebuild the store because of a post-war steel shortage, and the building was not finished until 1960. During this time, the business ran from a temporary shop at the nearby East House - now home to BHS.
1950
Second Trust Settlement signed
In April 1950 Spedan Lewis signed the Second Trust Settlement, which meant that the Partnership now belonged to its employees.
1953
Purchase of Herbert Parkinson mill
John Lewis wanted its own mill to produce bespoke fabrics, and still owns and runs Lancashire's Herbert Parkinson mill. Today it supplies 7,000 metres of fabric and 10,000 cushions a week.
1955
Spedan Lewis retires
Spedan Lewis stepped back in 1955 after a career spanning six decades. He had turned the business from a two-store local business to a national player with grocery and department stores, built around a unique democratic structure. He died in 1963.
1994
Stores open for Sunday trading
John Lewis was one of the last retailers to open on Sundays. It only did so in 1994 when Sunday trading laws were relaxed. It also used to shut on Mondays, because management wanted to allow staff a full two-day weekend.
2001
Johnlewis.com is launched
John Lewis moved online 13 years ago when its site launched with just 200 products. In 2008, when the recession hit, managing director Andy Street decided that multichannel was the way forward. Now known as a leader in multichannel retailing, the initiative helped to galvanise the business, which hit its stride in recent years as shoppers responded to its trustworthy image.
2003
John Lewis starts advertising on TV
For a retailer known for its attention-grabbing ads, it's perhaps surprising that John Lewis only started advertising on television 11 years ago. Making its mark in 2010 with the Always a Woman ad, the rest is history.
2014
Commonwealth Games sponsorship
The retailer is sponsoring Glasgow's Commonwealth Games this year, after the resounding success of its Olympics sponsorship in 2012. John Lewis's sponsorship of the events has helped to cement its position at the heart of the high street and national life - 150 years after it started, the partnership is stronger than ever.
John Lewis at 150: The history of the department store
1

Currently reading

John Lewis at 150: The history of the department store

2

3

4