Thanks to Black Friday, the BRC sales monitor reveals a strong performance in November, but some sectors continue to struggle.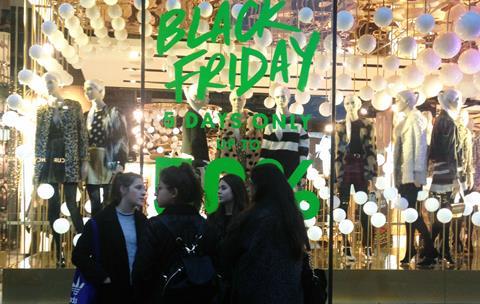 Food - down
Another year-on-year drop for the sector, the seventh on the trot.
Some positive news in that the three-month average fall was marginally lower than the three months to end of October, which suggests some stemming of the leaking sales.
Grocers are still struggling to convert footfall into sales, but the BRC says that the more premium end of the food market is still in demand.
Clothing - down
A particularly warm November didn't bring much comfort to fashion retailers.
Clothing showed the worst performance of any sector, dragged down in part by poor sales of accessories as shoppers enjoyed an extended period without the hats and scarves.
Black Friday brought a welcome boost, but all the indications are that discounts will be early once again, as retailers try to cut down their excess stock.
Footwear – up
The weather didn't help footwear either, which was the star performer last November.
Sales were marginally up from October though, no doubt lifted by some heavy Black Friday discounting to give the sector a late run.
Health and beauty – up
The health and beauty sector is delicately balanced, and was hit by a lower demand for cold and flu remedies thanks to the milder month.
Sales were up, but compared with November 2013 when the sector was the fourth largest contributor to retail sales, this year's seventh place is telling.
Furniture – up
Furniture jumped from the fifth biggest contributor to retail sales last year to second this year, as promising signs from the housing market tentatively emerge.
Toys and baby equipment – up
The sector is as competitive as ever and prices are already under pressure.
The supermarkets are hoping for a good performance in toys, especially with Christmas around the corner, and in-store sales continue to outstrip online.
House textiles – up
House textiles were up from last year, with bedding the biggest contributor to demand. The sector looks pretty well-placed for Christmas.
Home accessories – up
November is always a good month for home accessories, which gets a welcome boost from Christmas decorations.
A strong showing puts the sector as the fourth highest contributor to retail sales and one of the best-performers overall.
Household appliances
A new entrant in the sector breakdown, so no comparison is possible.
But the fact that the BRC has chosen to monitor appliances as a separate entity shows there is heavy demand, especially given how highly these products featured in the Black Friday discounts.
Other non-food – up
The sector, which household appliances has been broken away from, nonetheless showed a very strong performance, rising eight places in the rankings from last November.
As was to be expected, a big chunk of this came from the all-important final month of the year.